Jon Gruden sees some Brett Favre in Johnny Manziel
Jon Gruden thinks that Johnny Manziel plays a little bit like Brett Favre used to play.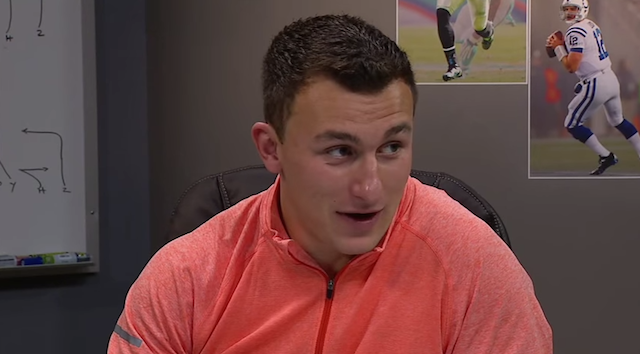 More NFL offseason: Mock Drafts | Prospect Rankings | Pro days | Top free agents
Apparently Brett Favre isn't the only one who thinks Johnny Manziel plays like Brett Favre, Jon Gruden thinks that too. The former Buccaneers head coach and current ESPN analyst said this week that he sees similarities between Manziel and Favre.
Favre was good at running around and keeping plays alive and that's a talent Manziel seems to share.  
"It takes courage to pull the ball down and reverse field and do some of the crazy things that Favre and Manziel do," Gruden told USA Today. "There's going to be consequences when sometimes it doesn't work out. But it takes a tremendous amount of guts and courage to go make a play when there's nothing there instead of throwing the ball away."
Favre said in February that Manziel reminded him of a young Favre. "I haven't watched him much, but one game I watched, for like three quarters, was the Ole Miss game," Favre said of a game in October where Manziel threw for 346 yards, ran for 124 (including two touchdowns) and led Texas A&M to a 41-38 comeback victory.
"I almost thought I was watching film of a young Brett Favre," Favre said. "I didn't think I did a lot of things well (in college at Southern Miss), but he did. And I liked the attitude of 'whatever it takes' -- from that standpoint, I liked him."
Gruden has had a first-hand look at both guys. The Super Bowl XXXVII winning coach was an offensive assistant in Green Bay for three seasons (1992-94) while Favre was there. Gruden also spent some time recently with Manziel while he was filming his 'Gruden's QB Camp' series for ESPN. 
Of the nine quarterbacks Gruden interviewed this year, Manziel seemed to be one of Gruden's favorites. "I had more fun with Manziel than I did most guys," Gruden said. "I'd love to have him."
One thing Manziel and Favre probably won't have in common is draft position. Favre was taken with the sixth pick in the second round of the 1991 NFL Draft by the Falcons. Manziel's expected to go much higher. In our most recent mock drafts here at CBSSports.com, all of our writers project that Manziel will be taken with one of the first seven picks. 
An example of how not to use social media

Mike McClure, a DFS pro with more than $1M in winnings, gives optimal DraftKings and FanDuel...

Let's check in on the Giants a day after their loss to the Lions
Mike McClure has made over $1 million playing DFS and gives his best daily fantasy football...

The veteran linebacker is the franchise's all-time leader in sacks

It's unclear when Timmons, a free-agent signing in the offseason, will make his Dolphins d...