Jonathan Martin: 'Don't believe everything you read'
Miami tackle Jonathan Martin wrote on Facebook that people shouldn't 'believe everything you read' and members of the Dolphins expressed support Thursday for their missing teammate.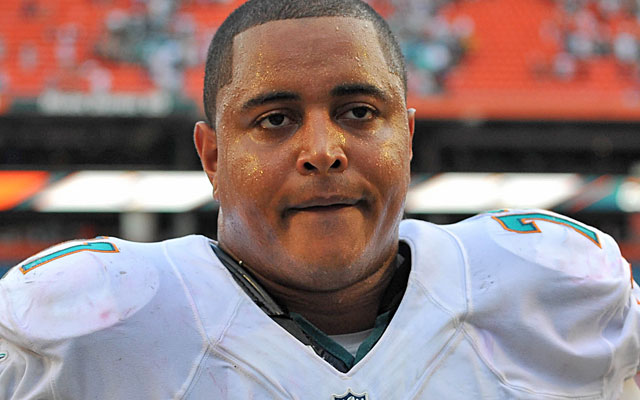 Jonathan Martin was a no-show for the Dolphins game on Thursday night -- a stunning 22-20 Miami win that actually saw them pass protect well -- and he's reportedly AWOL because of being bullied in the lunch room.
Martin received support from teammates after the game,  but before the game Martin wrote on his Facebook page, PFT reported Thursday, that you shouldn't "believe everything you read."
"Happy Halloween!" Martin said. "Don't believe everything you read."
Martin also added that "Opinions are like assholes, everyone has one."
The opinions of Martin's teammates probably interest him, given that they had positive things to say about him. Even Tyson Clabo, who got to keep his job because of Martin's disappearance, pointed out that the Dolphins "care" about Martin and "want him to come back to work."
"Obviously, we care about J-Mart a lot; we just want him to be all right," Clabo said. "I want him to come back to work. He's a talented, young football player. I can't say what he's feeling. But I know if and when he wants to come back, I will be there to shake his hand."
The man Martin blocks for, Miami running back Lamar Miller, said Martin's absence wasn't impacting the team.
"He just had some things going on," he said. "But as a team, we just continued to stay focused."
Miller's opinion wasn't even as vague as coach Joe Philbin, who said after the Dolphins' win that Martin was excused with a "non-football illness" and that he didn't care to comment further.
"What I'd like to say in regards to Jonathan, any player with an injury or illness, our concern is for the health of the individual," Philbin said. "In respect to Jonathan, he's been excused with a non-football illness. Our concern and support are with him. That's all I'm going to say."
It's a bizarre situation to say the least.
But it's one that would be much worse -- and much more in focus -- if the Dolphins hadn't managed to steal a win from the Bengals on Thursday night.
Plus the Eagles' formula for winning late, the AFC playoff mish mash and a budding young Vikings...

Here are the Week 11 grades for every team that played Sunday

The Eagles move to 9-1 after beating the Cowboys by four touchdowns
Peterman threw five interceptions in the first half before getting yanked

The Vikings' coach addresses the team's cloudy quarterback situation after their eighth win...

Green Bay could have brought in a veteran quarterback but decided to stick with Hundley