Jonathan Martin's lawyer alleges more verbal abuse
David Cornwell says that Incognito's verbal abuse went above and beyond what normally happens in NFL locker rooms.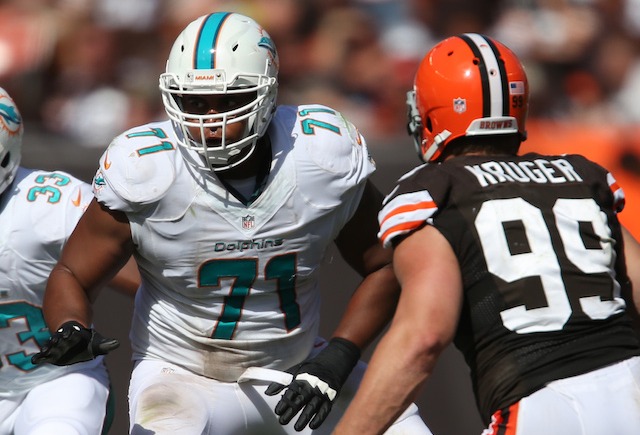 Have you had enough of the Jonathan Martin-Richie Incognito saga yet? Too bad. It's not going anywhere, especially with the explosive statement released Thursday by David Cornwell, an attorney hired to represent Martin in the harassment matter.
Cornwell made an emphatic point, via Pro Football Talk, that Martin's "toughness is not an issue" and then later slammed the door with an allegation that a player said rather ... aggressive things about Martin's sister.
"Jonathan Martin's toughness is not at issue," Cornwell said. "Jonathan has started every game with the Miami Dolphins since he was drafted in 2012. At Stanford, he was the anchor for Jim Harbaugh's 'smash mouth' brand of football and he protected Andrew Luck's blind side."
Cornwell described Martin's harassment as something "far beyond" what normally happens in NFL locker rooms.
"Jonathan endured harassment that went far beyond the traditional locker room hazing," Cornwell said.  "For the entire season-and-a-half that he was with the Dolphins, he attempted to befriend the same teammates who subjected him to the abuse with the hope that doing so would end the harassment. This is a textbook reaction of victims of bullying.  Despite these efforts, the taunting continued.  Beyond the well-publicized voice mail with its racial epithet, Jonathan endured a malicious physical attack on him by a teammate, and daily vulgar comments such as the quote at the bottom. These facts are not in dispute."
That quote? It is a doozy, coming from an unnamed teammate, and it involves some highly inappropriate things directed towards Martin's sister.
"We are going to run train on your sister. ...  She loves me. I am going to f*** her without a condom and c** in her c***."
Say whatever you want about things that happen in locker rooms, or even between friends. Saying something like that is incredibly inappropriate and completely unacceptable.
Cornwell's clearly not afraid to stir things up and he's done just that with his Thursday statement about Martin's situation.
It looks like we're going to have a quarterback competition in Jacksonville

Smith is facing up to seven years in prison if convicted

Plus everything else you need to know about Week 2 of the 2017 NFL preseason
This is why being a rookie in the NFL isn't fun

The Raiders running back went Beast Mode on reporters

Elway tried his best to emphasize how complicated the situation is