Josh Gordon: 'Pretty sure' Browns draft another franchise QB
The Browns are in the market for their next franchise quarterback and wide receiver Josh Gordon wouldn't be surprsied if the team targeted one in the 2014 NFL Draft.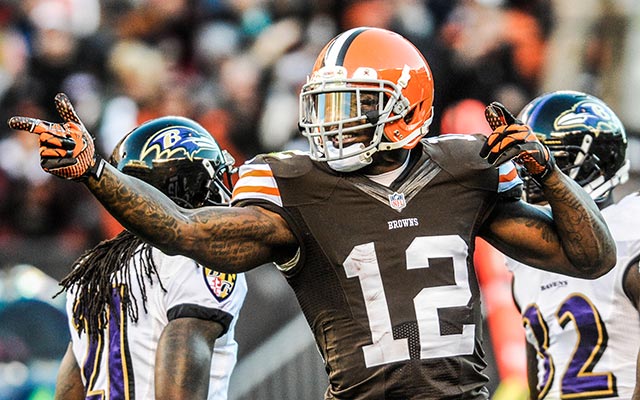 More NFL offseason: Mock Drafts | Prospect Rankings | Pro Days | Top free agents
The Browns are in the market for their next franchise quarterback. They dumped 2012 first-round pick Brandon Weeden earlier this month, and Brian Hoyer, who showed promise in three starts last season, is coming off ACL surgery. Cleveland also has two first-round picks -- Nos. 4 and 26 -- so it stands to reason that a quarterback will be in their future.
Back in February, there was a report that the Browns weren't interested in Johnny Manziel, but had their sights set on Derek Carr. This sounds like the annual pre-draft smoke-screening we hear in the weeks and months leading up to the biggest event of the offseason. Wherever the truth lies, Browns wideout Josh Gordon has a hunch that the team will target a quarterback.
"I talked with Ray [Farmer, the team's general manager], I talked with [owner] Jimmy [Haslam]. The choice is really up in the air right now," Gordon told ESPN. "I'm pretty sure it's a quarterback and I just really can't say which one. I'm not real sure. ...
"There's plenty of guys on the list right now. Blake Bortles is definitely one of those guys that just may do it for us. Teddy Bridgewater is a great talent. But there's no telling."
Meanwhile, Gordon thinks the skills that made Johnny Manziel so dangerous in college will translate to the NFL.
"I think it might not be as hard as most people believe it to be," he said, "simply because of the fact we have guys like Russell Wilson now, shorter quarterbacks. You see Drew Brees doing it.
"Johnny seems that much more mobile, if anything. He seems to elude defenders a whole lot better. I know it's hard to tell, and there's a whole lot of mixed reviews on him. But he's bringing highlights to the game that a lot of people haven't seen in a long time. I think he'll be great for the NFL."
According CBSSports.com mock draft experts, the Browns are expected to take Jake Matthews, Johnny Manziel, Sammy Watkins or Teddy Bridgewater with the fourth-overall pick.
In the past week, Marshawn Lynch and Michael Bennett have both sat during the national ant...

As expected, the internet had jokes about the Chick-fil-A at Mercedes-Benz being closed on...

Harrison is the franchise's all-time leading sacker, but J.J. Watt's brother will get the starting...
More than 17 percent of fans say they would never consider dating a Pats fan

Brady said that his lack of speed is why he fell so far in the draft in the first place

If Thomas is right, that means it's bad news for DeShone Kizer's chances of starting early