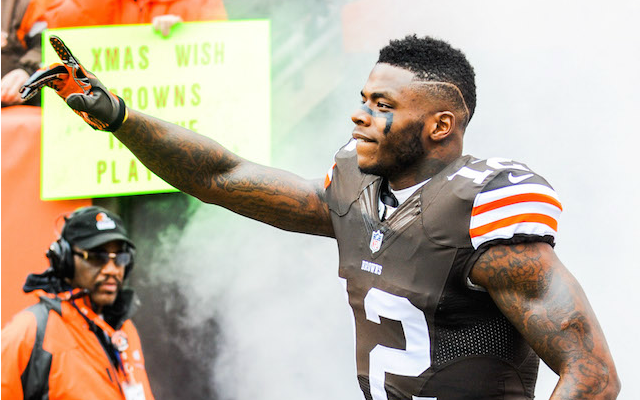 Josh Gordon was suspended when the 2014 season started and that's the way he'll end it. The Cleveland Browns announced on Saturday that Gordon's been suspended for the team's regular season finale against Baltimore. 
Here's five things you need to know. 
1. The suspension was handed down by the Browns, not the NFL. When Gordon sat out the first 10 games of the 2014 season, that was an NFL mandated suspension. This time around, the Browns made the decision. Gordon is officially suspended for violating an unspecified team rule.
2. So what was that unspecified team rule? According to the Baltimore Sun, Gordon missed the team's walk-through on Saturday. ESPN.com notes that the team had trouble locating Gordon on Saturday morning. If you're already on thin ice, you can't just go missing like that, something that you'd think Gordon would already be aware of. 
3. Gordon's roster spot will be filled by wide receiver Phil Bates. The undrafted free agent spent the first two seasons of his career in Seattle (2012-13), where he saw action in one game. Bates signed with the Browns in October and was on Cleveland's practice squad until Saturday when he was promoted to the active roster after Gordon was suspended. 
4. The Browns offense has actually been better this season without Gordon. During his 10-game suspension, the Browns went 6-4 and averaged 356.1 yards of offense per game, a number that would rank 13th in the NFL if the Browns had done it over 15 weeks. 
With Gordon in the lineup, the Browns have gone 1-4 and averaged only 274.6 yards of offense per game. If the Browns had averaged that over the entire 2014 season, they would rank dead last in the NFL, an honor that currently belongs to the Raiders, who have averaged 287.7 yards per game this season. 
5. The suspension might only be one game, but it's going to have a profound effect on Gordon's future. According to the Baltimore Sun, one of the reasons Gordon was suspended was so he couldn't accrue a season toward free agency. 
Source with knowledge of Browns' thinking says suspension of Josh Gordon is also motivated by team wanting to delay his free agency status

— Aaron Wilson (@RavensInsider) December 27, 2014
If that's why the Browns suspended Gordon, the NFLPA might have a problem.
So what does a one-game suspension have to do with Gordon's free agency status? 
According to the Collective Bargaining Agreement, "a player shall receive one Accrued Season for each season during which he was on, or should have been on, full pay status for a total of six or more regular season games."
Since Gordon won't be playing in Week 17, he'll only have full pay status for five games instead of the six he needs. That means that when his contract expires after the 2015 season, he'll only have three accrued seasons toward free agency and therefore he'll be a restricted free agent. Because he'll be a restricted free agent, the Browns will have the rights to match any offer Gordon is given following the 2015 season. 
If Gordon had accrued a season toward free agency in 2014, he'd have four accrued seasons and he'd be an unrestricted free agent after 2015. As an unrestricted free agent, Gordon would have been able to sign with anyone without worrying that Cleveland might match the offer.
Gordon will officially find out on Sunday whether or not he gets to accrue the 2014 season toward free agency.  
Whether or not the Browns pay Josh Gordon for Sunday's game will determine whether he accrues the year. Gordon can appeal with the NFLPA.

— Albert Breer (@AlbertBreer) December 27, 2014
Finally, no matter what happens, there's no guarantee that Gordon will even be in Cleveland after this season. It won't cost the Browns much to keep him -- $1.07 million in base salary -- but the team may try to get rid of him, just like they did last season. If the Browns do dump him, it's almost guaranteed that they're going to get less than they would've received last offseason.  
Last year Browns had deal for Gordon to San Fran essentially done. Ownership squashed it. Will regret that. They'll get little for him now

— Jason La Canfora (@JasonLaCanfora) December 27, 2014