Judge allows Aaron Hernandez to switch jails to be closer to lawyers
In a court proceeding Monday, judge Susan Garsh said Aaron Hernandez could switch jails.
• 1 min read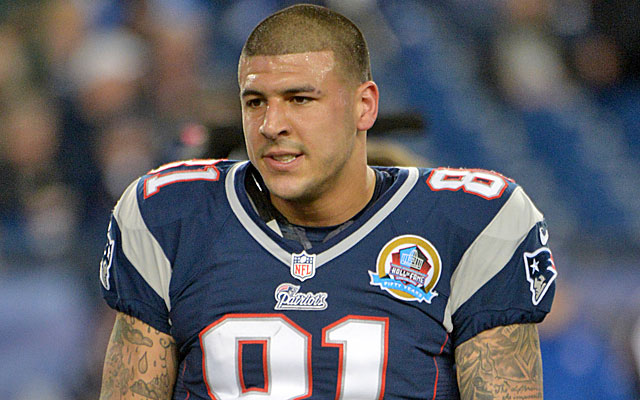 With former Patriots star tight end Aaron Hernandez and his lawyers preparing to face three murder charges, a judge agreed that it'd be OK for Hernandez to be physically closer to his Boston-based attorneys.
Thus, the judge has allowed Hernandez to leave the Bristol County jail, which is about 80 minutes from Boston, to an unknown location that's closer to the city. Hernandez's attorneys also claimed that his privacy and due process rights had been violated by a jail administrator. Judge Susan Garsh did not comment on those claims.
The prosecutors, via CBS Boston, said they had no issue with Hernandez moving to a new jail.
One of Hernandez's attorneys also told the judge that it was possible the defense would file for a change of venue.
More from the AP: "Hernandez was in court for the hearing, which addressed mostly procedural issues. He smiled and mouthed messages to his family before the hearing began. His mother and brother were among those in court, as were family members of Odin Lloyd, the 27-year-old Boston semi-professional football player Hernandez is accused of killing in June 2013."
The Patriots coach didn't seem that impressed with his quarterback's heroics

The Patriots coach doesn't have time to waste on the Lamar Hunt Trophy

The Eagles defense definitely came to play in the NFC Championship game
Not even 10 stitches could slow down Tom Brady

Here's a look at the NFL's entire postseason schedule for 2018

Follow along live as the Vikings and Eagles battle for a spot in the 2018 Super Bowl