Judge issues gag order in Aaron Hernandez murder case
Both the prosecution and Aaron Hernandez's defense team have been forbidden from discussing Hernandez's murder case anywhere outside of the courtroom.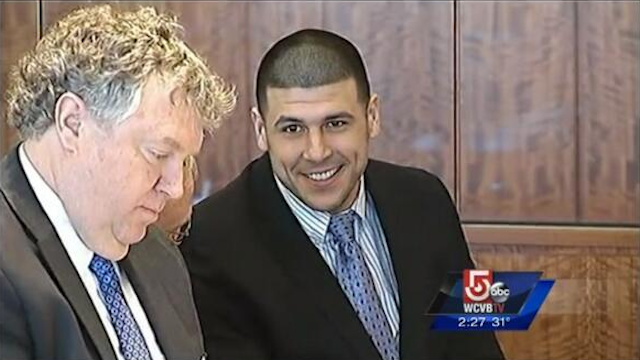 The judge presiding over the Aaron Hernandez murder case is doing her best to make sure Hernandez gets a fair trial in front of an impartial jury. Bristol Superior Court Judge E. Susan Garsh imposed a gag order on Friday that will apply to both the prosecution and Hernandez's defense team, according to the Boston Globe. 
Both sides are prohibited from discussing the case outside of the courtroom. 
Here's part of Garsh's gag order, via the Globe. 
None of the lawyers appearing in this case or any person with supervisory authority over them shall release or authorize the release of information about this proceeding that a reasonable person would expect to be disseminated by any means of public communication if the lawyer knows or reasonably should know that it will have a substantial likelihood of materially prejudicing potential trial jurors or witnesses or will have a substantial likelihood of heightening public condemnation of the accused.
According to the Associated Press, Hernandez's lawyers had sought the gag order because they believed the state was making 'prejudicial out-of-court statements.' Hernandez's defense team was unhappy about an October incident where Dolphins lineman Mike Pouncey -- a friend of Hernandez's -- was served a subpoena at Gillette Stadium after Miami played the Patriots. 
Hernandez's attorney's referred to the incident as a 'publicity stunt.' The prosecution denied that Pouncey was subpoenaed 
The former Patriots tight end has been in jail since June 26 when he was arrested for his possible involvement in the death of Odin Lloyd. Hernandez is facing a total of six charges in the case, including a first-degree murder charge. 
The Blair Walsh revenge game got out of hand

The Seahawks just took a serious hit to their offensive line

Let's call it the Blair Walsh revenge game
Jeremy Lane also stood near Bennett along with pass rushers Cliff Avril and Frank Clark

Bennett also dedicated it to 'all of the other athletes using their platform to promote ch...

The Patriots quarterback shows commitment from Day One