Julius Peppers donates $250K to UNC
On Sunday, Bears defensive end Julius Peppers flew to Chapel Hill last week and donated $250,000 to the school's Light on the Hill Society Scholarship that supports African-American students
• 1 min read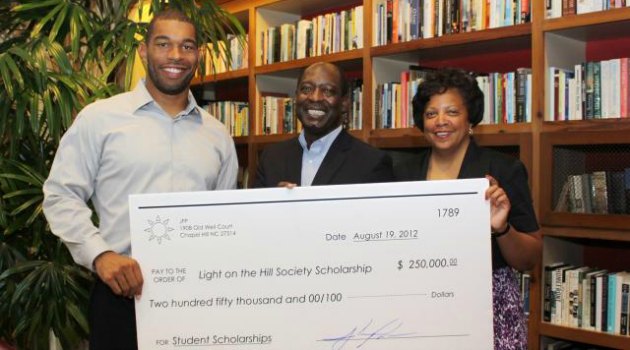 Peppers is not afraid to donate hundreds of thousands of dollars to his university. (goheels.com)
Earlier this month, Bears defensive end Julius Peppers was thrust into the center of the academic controversy surrounding the University of North Carolina when it was discovered that his college transcript was available on the Intertubes for anybody with an Internet connection to study.
As CBSSports.com's Will Brinson wrote nine days ago, "This transcript is particularly interesting because of the number of 'Independent Study' courses in Afro-American Studies that Peppers, who played at UNC from 1999 to 2001, attended."
Peppers almost immediately no-commented his potential role in the academic fraud that's tarnished UNC. A few days ago, though, Peppers said this, "I can assure everyone that there is no academic fraud as it relates to my college transcript. I took every course with qualified members of the UNC faculty and I earned every grade whether it was good or bad."
But he's not mad at his former school, and Peppers proved that Sunday by flying to Chapel Hill and donating $250,000 to the school's Light on the Hill Society Scholarship that supports African-American students (Peppers also donated $100,000 to that fund in 2009).
"After considering the ways that I might be able to help young college students, I decided to continue my support of the Light on the Hill scholarship," Peppers said, via the Chicago Tribune. "I would like to endorse this particular fund and encourage other former UNC students who have found success to reach back and assist the efforts of current and future Tar Heels."
Peppers is still upset that his transcript was leaked -- and that it remained online for quite a while before it was discovered -- but it's encouraging that even though Peppers' reputation in academia potentially has taken a hit, he's still willing to put up a quarter of a million dollars to make sure other African American students will continue to benefit at UNC.

For more NFL news, rumors and analysis, follow @EyeOnNFL on Twitter, and subscribe to our Pick-6 Podcast and NFL newsletter. You can follow Josh Katzowitz on Twitter here: @joshkatzowitz.
The former No. 2 overall pick drew interest this offseason but did not play in 2017

This matchup isn't quite as glamorous as it looked when the schedule was released in the s...

Patriots-Steelers highlights a week filled with playoff-caliber games
Cleveland's quarterback has recently improved, but his turnovers have been a big part of the...

Warren Sapp was one of several players named in a lawsuit against NFL Network

Check out the uniforms that Denver and Indianapolis will be wearing on Thursday