Junior Seau's family: NFL taking no ownership for Seau's death
The family of Junior Seau would to see the NFL take some accountability in Seau's death. The former NFL linebacker committed suicide in May 2012.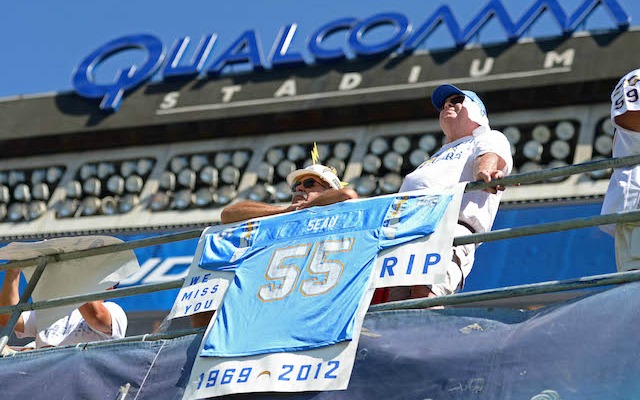 For two decades, Junior Seau played in the NFL and for most of those 20 years, his then-wife Gina could only helplessly watch as the game gradually took its toll on her husband. 
In a segment for Showtime's 60 Minutes Sports that's set to air on Tuesday at 10 p.m. ET/PT, Gina and two of Seau's children opened up to reporter Armen Keteyian about Seau, who was diagnosed with chronic traumatic encephalopathy (CTE) after committing suicide in May 2012. 
"When he would come home from games, he would go straight to the room," Gina tells Keteyian. "[He'd] lower the blinds, the blackout blinds, and just say, 'Quiet, my head is, is burning.'"
After playing for the Chargers, Dolphins and Patriots, Seau retired from football following the 2009 season, but the burning didn't stop. Seau's son Tyler said that his dad started changing after he retired. 
"I saw a man right before my eyes changing," Tyler said. "He wasn't that happy go-lucky guy anymore."
Seau's daughter Sydney admitted to Keteyian that being with her dad in his post-retirement life wasn't easy. 
"It was hard," Sydney said. "Because we were all reaching for someone that wasn't exactly reaching back, even though we know -- we knew that he wanted to."
The Seau family had the option of accepting a $4 million payment that was offered to them under the NFL's proposed concussion settlement, however, the family wants no part of that money. 
The Seau's have filed a wrongful death lawsuit in hopes of getting accountability out of the league. 
"The NFL is taking no ownership for what they've done," Tyler tells Keteyian. "There's no responsibility on their part. They're basically giving you a number and [being] like, 'All right, there you go. We're done.'"
Keteyian's story on the Seau family will air Tuesday on Showtime at 10 p.m. ET/PT. You can see a preview of the segment below. 
The Raiders RB sat through the 'Star Spangled Banner' but stood for the Mexican anthem on...

Plus the Eagles' formula for winning late, the AFC playoff mish mash and a budding young Vikings...

Here are the Week 11 grades for every team that played Sunday
The Eagles move to 9-1 after beating the Cowboys by four touchdowns

Peterman threw five interceptions in the first half before getting yanked

The Vikings' coach addresses the team's cloudy quarterback situation after their eighth win...