Just Because: A 52-year-old Dick LeBeau could tackle with power
Former Oilers receiver Haywood Jeffires found out the hard way that Dick LeBeau was a wily tackler at the age of 52
• 2 min read
The Steelers had one of their best performances of the season in Week 11, beating Detroit 37-27 and playing outstanding defense in the second half while allowing only 72 yards and five first downs in the final 30 minutes.
It's been a rough season for Pittsburgh and its defensive coordinator Dick LeBeau, but because he's likely feeling pretty good this afternoon, let's go back to a time when LeBeau wasn't scared to tackle you if you came anywhere near him. Especially if you had been forced out of bounds. Even if he was 52 years old.
Witness (H/T to CBSSports.com's Ryan Wilson):
A couple of things:
1) How much power did LeBeau use to drive Oilers receiver Haywood Jeffires to the ground? And Lebeau was freakin' 52 years old at the time. Jeffires was so intimidated the rest of the day that he only caught three passes for 41 yards in that game.
2) You probably know this, but LeBeau was a Hall of Fame cornerback from 1959-72 with the Lions, accumulating 62 career interceptions. So, he could play a little bit of football.
3) Apropos of nothing, LeBeau also was an outstanding golfer. This, from 1961: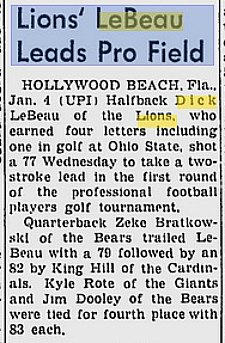 He also is strangely funny.
"I am thinking of becoming a spiritualistic medium," LeBeau told Sport magazine in 1967, via the Canton Repository. "I have a talent for that. I recently discovered that I can bring back Ben Franklin if I can just hit the E minor on my guitar. Old Ben really digs E minor."
4) And ... well ... you should just read this. From Behind the Steel Curtain:
[Writer George] Plimpton described Dick LeBeau as a favorite target for the pranks the other players liked to pull, because of an "abstracted air which made it possible for the jokesters to work around him, setting up their props, without his being aware." LeBeau liked to play the guitar and sing, and Plimpton said he had "a pronounced Mid-Western twang, nasal and slow, which made the songs he put to his guitar quite incomprehensible, though fetching: gentle songs full of melancholy and poverty, one supposed, and love unrequited."

He also discussed LeBeau's "ladykiller" reputation, and how he danced with "an aloofness close to disdain, which made the girl moving opposite him, invariably pretty, work very hard, although in the manner of those dances he never looked at her, staring out to one side, then the other, then over the girl's head..."
Hopefully, none of those girls were named Haywood. Or, for that matter, Los Angeles Rams receiver Carroll Dale in 1963, as pictured blow. Which, come to think of it, actually looks pretty damn similar to the video above.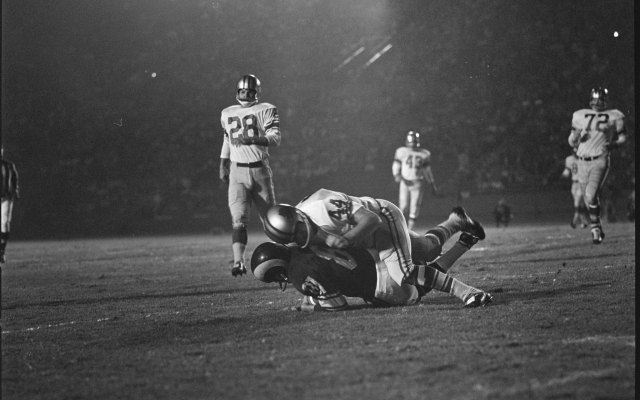 Follow Josh Katzowitz on Google+
Here's an up-to-date look at the 2018 Pro Bowl roster

New England is 3-0 wearing white in Super Bowls under Bill Belichick

Bettors are favoring the Eagles to keep Super Bowl LII close, but the Patriots remain clear...
No one wants to give the Eagles any respect

The three-time Grammy winner will sing before Super Bowl LII on Feb. 4

Here's a look at the NFL's entire postseason schedule for 2018