Just Because: A cool story about 2015 HOF finalist Mick Tingelhoff
Mick Tingelhoff was a tough dude, apparently.
• 1 min read
You might not have heard much about this, but last week, former Vikings center Mick Tingelhoff was named a 2015 Pro Football Hall of Fame senior finalist, meaning that he, as the only senior up for induction, has a fantastic shot at landing a second home in Canton next year.
Here's what he looked like when he snapped the ball to quarterback Joe Kapp during Super Bowl IV when the Vikings lost to the Chiefs in 1970, via Getty Images.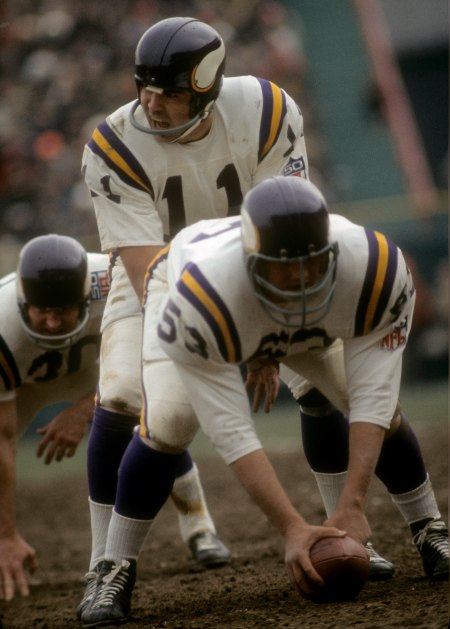 Anyway, Tingelhoff played for 17 seasons and 240 games, all in Minnesota, and made six Pro Bowls en route to being honored as an All-Pro five times. But here's what's most stunning about him. As the story goes, he never missed a game, and he never missed a practice.
He suffered bad injuries that he had to play through, some of which caused all-time great coaches to laugh in disbelief. Like Vince Lombardi in this cool story recently told by the Minneapolis Star Tribune's Sid Hartman.
One of Tingelhoff's biggest boosters was the late Vince Lombardi, who was a personal friend and told me after one of the Vikings' victories over the Packers in Green Bay, "That number 53 played one of the greatest games I've ever witnessed a center play." And when I told Lombardi that Tingelhoff played with a torn muscle, he laughed.

So to prove my point, I got Don Lannon, the Vikings' doctor at the time, to send Lombardi an X-ray of Tingelhoff's knee. The Packers coach was shocked and brought it up the next time I saw him.

When the Vikings retired his jersey in 2001, longtime Vikings trainer Fred Zamberletti verified what I told Lombardi when he told the Star Tribune: "I remember once he tore a [leg] muscle. We taped him all the way from his toes to his buttocks, and he played every play against Green Bay. I remember another time, he had a separated shoulder. The doctor said there was no way he could play, but somehow he had a miraculous recovery and played Sunday."
Until, one day in 1978, he couldn't. This is what happened after 328 straight preseason, regular-season and postseason contests.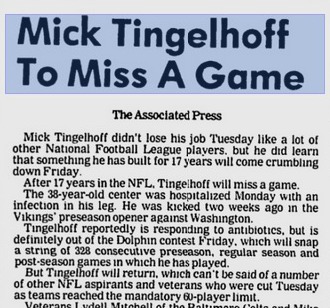 Altogether, it was a remarkable run by Tingelhoff  -- one that very well could leave him among the next group of pro football immortals.
The top would-be free agent wide receiver is officially off the market

A billionaire owner of the Pittsburgh Steelers is hoping to buy the Carolina Panthers

The crop of free agent offensive linemen just got better
Laurent Duvernay-Tardif might have just made one of the most unique jersey requests in NFL...

The new Raiders coach offered some details on what he wants from Marshawn Lynch

The mystery is over, we finally know what baby Sienna looks like