Just Because: A photo of a young, hungry Pete Carroll from 1985
The Pete Carroll from 28 years ago was a whippersnapper coming off a job loss and trying to make the Vikings secondary better.
• 2 min read
In 1985, Pete Carroll was in his first season as the defensive backs coach for the Vikings, only two years into his NFL coaching career after 11 seasons in the college ranks, and he was part of the staff who led the team to a 7-9 record that year.
When his Seahawks take the field Monday night in an important NFC contest vs. the visiting Saints, Carroll will be far removed from the 34-year-old coach he was 28 years ago, working under head coach Bud Grant, and manning a unit that included John Turner and his team-leading five interceptions and safety Joey Browner -- who made the Pro Bowl that season.
That season three decades ago featured a mediocre team that didn't make the playoffs and seems rather inconsequential for the Viking these days. Except, of course, for this photo, unearthed by the Seahawks Twitter account.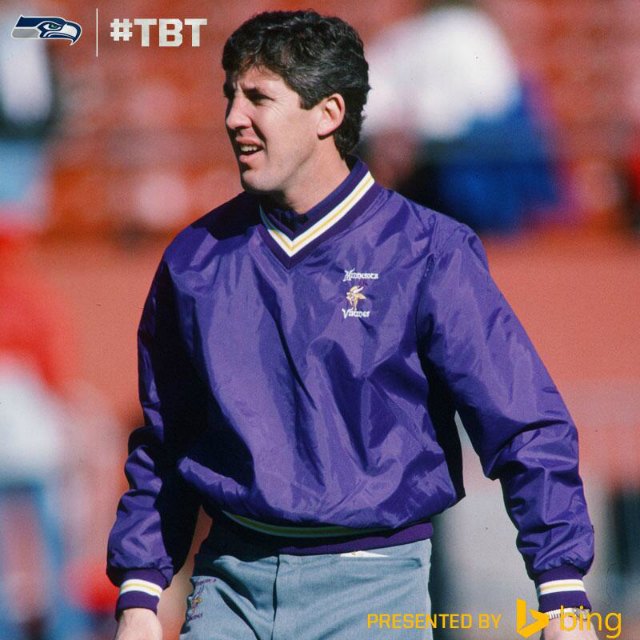 A couple of things.
1) Is it just me or does Carroll in his mid-30s look a little bit like a 1971 version of John Kerry?
2) The pants confuse me. They kind of look like jeans, but the Vikings logo sits on them like they're sweat pants. But sweat pants aren't supposed to have a zipper, right? So, what the hell is going on with those pants? Actually, they might be shorts. I don't really know. Did coaches shorts, like the ones once worn by Lawrence Taylor, have zippers? So many questions.
3) At that time, Carroll probably felt happy to have a job. After all, this was what happened after his first season in the league, when he was the DB coach for the Bills -- who went 2-14 in 1984.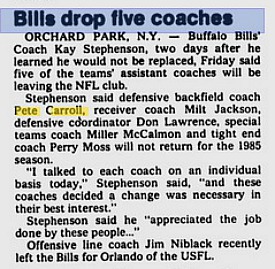 Yes, Kay Stephenson -- who was fired four games into the next year -- I'm sure Carroll decided at the time it was in his best interest not to have a job.
(Psst, turns out, it probably was.)
4) His first season in Minnesota was a special time for Carroll because of his boss. "I was really fortunate, because I'd just gotten fired after my first year in the league coaching the secondary in Buffalo," Carroll told the Seahawks website. "So I was lucky to get back into the league and fortunate to get on [Grant's] staff. It was a very special team for me, because coach Grant let me hang around him and kind of follow him around and ask a bunch of questions. After he retired, he still stayed as an advisor to the program. So he was there available for us."
Carroll, by the way, still huddles with Grant on occasion. He just doesn't wear those kinds of pants/shorts anymore when he does it. That's our hope, anyway.
Follow Josh Katzowitz on Google+
Nick Kostos won big on Monday nights last season and gives his best 3-team NFL parlay for Week...

While the offense in Pittsburgh tries to gain traction, the defense has looked great

Lacy, currently the odd back out in Seattle, wonders what trolls get out of fat shaming him...
The NFL commissioner also met with local police and politicians to discuss social issues this...

Brady's 28th career AFC Offensive Player of the Week award breaks a tie with The Sheriff for...

Big Blue is a big mess and McAdoo says nothing is off the table