Just Because: HOF CB Mel Blount works out on a farm with horses
Mel Blount was the youngest of 11 children on a farm in south Georgia. Here's a photo of him, just because.
• 1 min read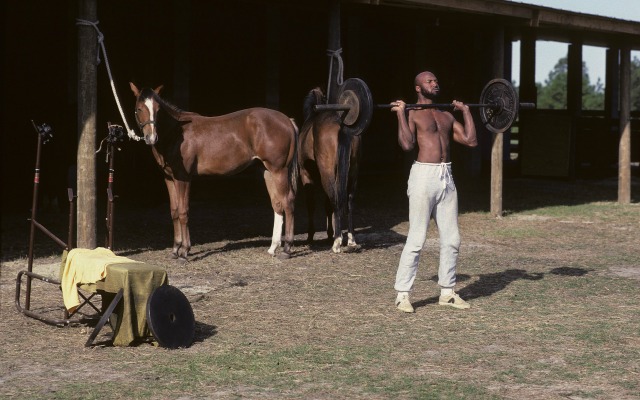 The man you see above, lifting weights in grey sweats is five-time Pro Bowl cornerback Mel Blount, who spent all 14 of his NFL seasons with the Steelers. You might not realize it, but when this photo was snapped in 1983, Blount was about to turn 35 and was preparing for the final 16 games (and four interceptions) of his career.
Nothing all that unusual about the picture. Just a dude working out, maybe doing some shoulder presses or getting in some extra cleans. He's probably headed next to the bench in order to continue sculpting his pectorals.
Oh, and a horse is watching as well. BECAUSE BLOUNT IS WORKING OUT ON A FARM.
Say, what?
Blount, you see, grew up in south Georgia and was the youngest of 11 children. He was raised on a farm, and to this day, he competes in special horse-cutting demonstrations while enticing current Steelers rookies to get in the saddle and work with kids at the Mel Blount Youth Home of Pennsylvania.
Blount, as we see in the photo below, Blount wasn't exactly unhappy on the farm.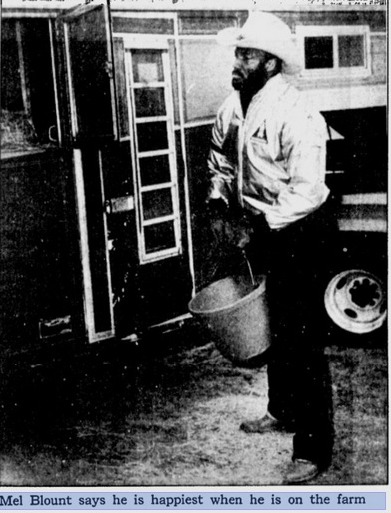 Said Blount in that 1983 Pittsburgh Press story: "I'm as country as country can be. You don't have to worry about being pretty down here. You can just be yourself."
So, good for Blount, whose earliest workout partners were of the equidae species. But hey, who are we to argue? Blount was elected to the Hall of Fame in 1989 on his first ballot. And he was a guy who had plenty of, ahem, horse power.
Ken Norton Jr. didn't even last a week in San Francisco

One bettor in Vegas is going to make some serious money if the Jaguars win it all

The Jaguars, Vikings and Eagles have combined to win exactly zero Super Bowls ever
The Steelers wilted under the pressure of the postseason

The Bears fan is now officially linked up with the Packers quarterback

The Cardinals have the future in mind at quarterback with the dynamic Louisville quarterback...