Just Because: Len Dawson enjoys a sweet cig during Super Bowl I
What do you do if you lose Super Bowl I? Smoke break!
• 1 min read
It's 1967. You are a man's man, and you play football with a good head of hair under your helmet (you can probably thank Bart Starr for the latter).
And man, do you need a cigarette after while playing in a hard-fought Super Bowl I contest in which the Packers dominated those AFL underdogs 35-10.
Well, Chiefs quarterback Len Dawson can feel your pain. And he knows how to ease it as well. With a few drags of a sweet, sweet postgame cigarette.
As you can see here, via reddit: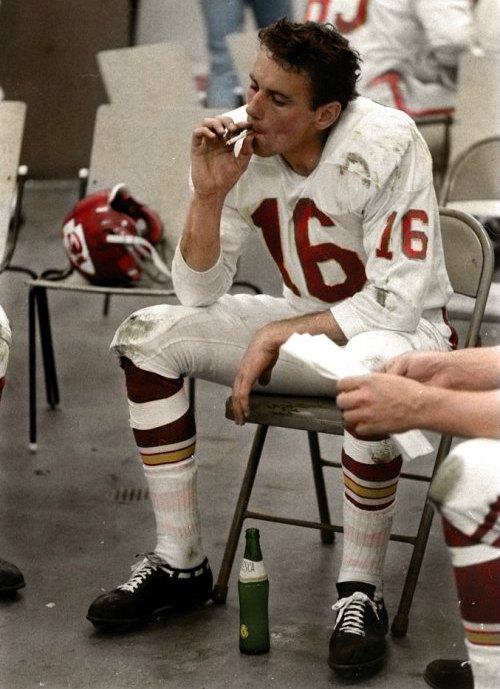 If Dawson, however, wanted to be a REAL man about the whole thing, he'd have a bottle of beer (preferably Budweiser) or a tall, cool glass of scotch between his feet. Instead, he's sipping on Fresca.
But that's OK, and all's well that ends well.
The next time the Chiefs were in the Super Bowl, they won the game. Instead of smoking a cig in the locker room after the game, he received and welcomed President Nixon's congratulations on the phone.
Follow Josh Katzowitz on Google+
This is how you do a 99-yard touchdown drive

This may or may not have been pass interference

That sort of sounds like the nickname of a certain NBA MVP
Cam Newton decided not to take part in his mandatory press conference this week

You can't buy these in a store

Do refs hate your favorite team? The NFLRA says no.