Just Because: Red Grange tries to sell you Jim Beam bourbon
If you like bourbon, why wouldn't you buy the brand that Red Grange endorses?
• 2 min read
Red Grange was one of the best college football players of all time, and by the time he finished his pro career, the running back/defensive back made such an impact in his eight seasons that he made the inaugural list of first-ballot Pro Football Hall of Famers.
But what really got him going -- or as the advertisers would have you believe -- was a nip of some good old fashioned bourbon. Jim Beam, for instance.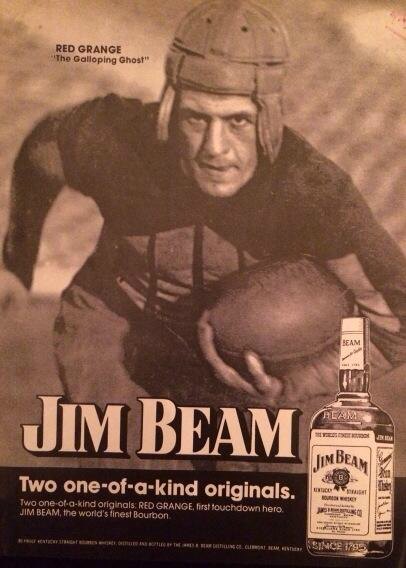 That photo comes from the Twitter account of Darren Rovell, who dates the ad to 1974. And it's funny, Grange appears to be licking his lips like he wants a tumbler full of chilled bourbon brought to his taste buds as fast as the bartender's legs can carry him or her (also wouldn't Grange have preferred to swill some Jim Beam instead of cuddling up in blankets during this undated game -- Grange is on the far right with a black eye).
And apropos of nothing, other than I found this when I was doing research, here's Red Grange getting an autograph from Marion Davies -- a famous actress of the 1910s, '20s and '30s -- on his helmet. Perhaps he could have offered her some bourbon as a thank you.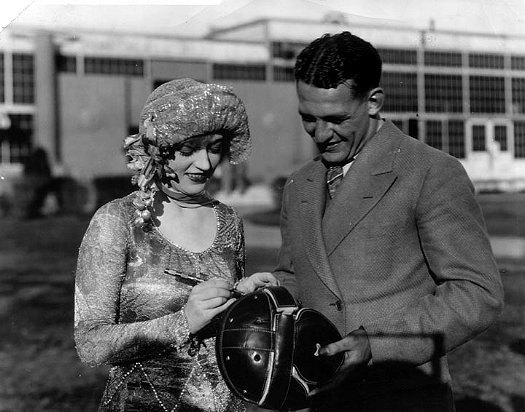 And just because, here's a Grange story emailed to me Monday morning by @dentuttle.
One cold, wintry day, an old man was having lunch in a bar, slumped over his food, minding his own business. His coat collar was pulled up to help keep him warm. The TV was on and the discussion was about Barry Sanders and the greatest running backs of all time. The old man never looked up at the screen, stayed focused on his eats.

Two young guys a few seats down started their own debate. They ticked off a list of the greatest. . . Van Buren, Brown, Sayers, Dorsett, Payton, Campbell -- the usual names. One of the guys says what about the Gallopin' Ghost, Red Grange? The other guy says, "Are you f---ing kidding me? Grange couldn't hold Jim Brown's jock."

The old man never blinks. He finishes his lunch, pays his tab, puts on his hat, walks up to the two young guys and says, "You're right, Grange couldn't hold Jim Brown's jock," leaves a business card on the bar and walks away. The two young look at the old man quizzically and flip over the business card. It read: Harold "Red" Grange.
Follow Josh Katzowitz on Google+
The longtime Bengals coach and the team are planning to part ways after the season ends

Everything you need to know heading into Week 15 is right here

Haden has been out since Week 10 with a fractured fibula
There's also the possibility Goodell steps aside early if his potential successor is progressing...

The league could return to its pre-2009 policy after a year in which pregame protests took...

Arians hasn't said he's retiring, but the team has discussed contingencies for a coaching...