Just Because: Slingin' Sammy Baugh shows us his JAZZ HANDS!
In our latest edition of 'Just Because,' we showcase Sammy Baugh and an inexplicable pose.
• 2 min read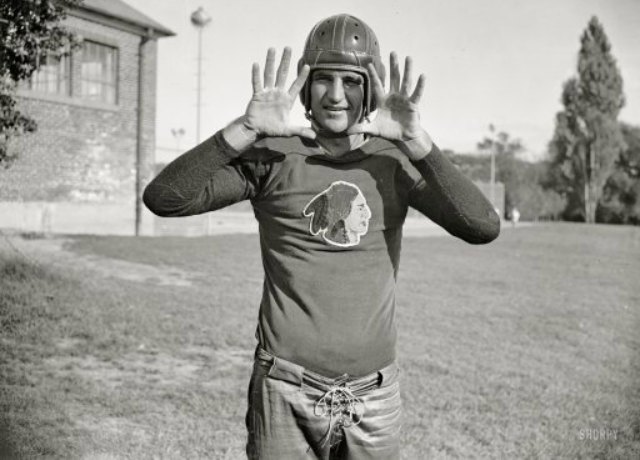 Because we love the Eye on Baseball's "Just Because" series (here's one strong example) and because we're out to prove that any idea can be stolen and then not improved upon, we thought you might find the above picture of Sammy Baugh interesting.
Before Robert Griffin III, when was the last time the Redskins had a franchise quarterback on which their fans could count on year after year after year? Probably Mark Rypien, and before him, Joe Theismann, Billy Killmer and Sonny Jurgensen. In fact, before this recent run of Frerotte's, Shuler's, Ramsey's and Grossman's, the Redskins had strong, consistent play at quarterback in the 1960s, '70s and '80s.
But none of them were like "Slingin'" Sammy Baugh, the six-time Pro Bowler who was inducted into the Pro Football Hall of Fame in 1963 (Baugh, who died in 2008 at 94 years old, was actually the last survivor from the original Hall induction class). He led the league in completion percentage nine times in his 16-year career (all with the Redskins), and Baugh was credited by some as the best quarterback in pro football history.
In fact, some say he's the best all-around player in pro football history.
Of course, you can't compare his stats to today's star quarterbacks, but it's interesting that he began his career playing in single-wing offenses and ended it in T-formation looks -- I'd be fascinated to see what kind of stats he'd pile up if he were playing in today's open passing schemes. Obviously, Baugh was of a different era, the kind in which quarterbacks actually ran the offense during games.
"I called plays in college and all the time in pro ball," Baugh said, via this fascinating 2008 ESPN.com obituary. "The quarterback did in those days. We didn't get much help from the sideline. When someone asks me what's the best thing I got out of football, the most satisfying was beating the defense. I enjoyed that part of it."
Either way, we discovered the above picture, dated Sept. 11, 1937, on the incredible Shorpy.com website. If we didn't know any better, we'd think Baugh was showing us his JAZZ HANDS! If you have a better theory of why he's in this pose (maybe he's about ready to catch a pass aimed at his face; maybe he's acting out Twinkle, Twinkle, Little Star for the cameraman), feel free to comment below.
And if you want to see some live-action highlights of the kind of stunts that Baugh could pull on the football field -- as well as why he once was called a combination of Peyton Manning, Ray Guy and Ronnie Lott -- enjoy this highlight video as well.
As for why Baugh is showing us his JAZZ HANDS in the picture above? Unfortunately, it's a query that never will be answered.
Here's an up-to-date look at the 2018 Pro Bowl roster

Bettors are favoring the Eagles to keep Super Bowl LII close, but the Patriots remain clear...

Here's everything you need to know about Super Bowl LII
Here's a look at the NFL's entire postseason schedule for 2018

Here's all the details you need to know on watching Super Bowl LII between the Patriots and...

All of the information you need to know about the 2018 Super Bowl