Just Because: Take a look at Red Grange's 1925 college yearbook
On Red Grange's 110th birthday, the Pro Football Hall of Fame shows us what his college yearbook looks like.
• 1 min read
Thursday is the 110th anniversary of Red Grange's birth. To celebrate, the Pro Football Hall of Fame released Grange's recently acquired 1925 college yearbook.
Grange was a star at Illinois before embarking on an eight-year NFL career that landed him in the Hall of Fame. He was one of the most important football figures of the early pro and college games, and he was celebrated in this yearbook: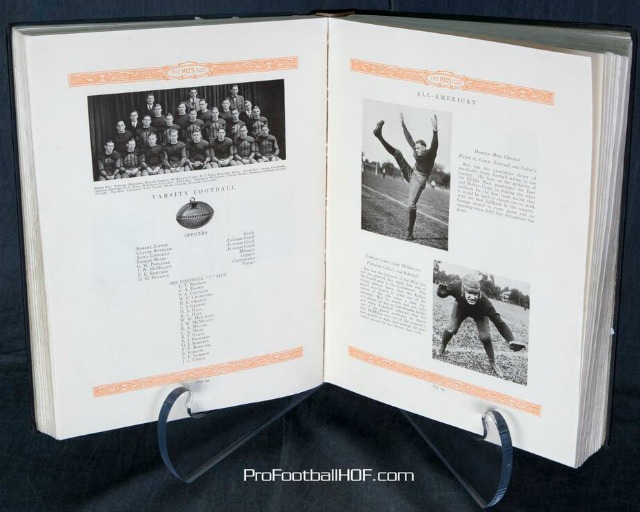 Grange, an All-American, is the one at the top right in the photo in which it looks like he's auditioning for a role with the Rockettes. Is it me, or does the yearbook look in surprisingly good condition considering it's 88 years old?
No matter, the description underneath the Grange photo is tough to read, but I could make out this: "Red was the unanimous choice of practically every football writer in the country."
And if it's grainy video footage of Grange you're looking for, here's what I've found. Again, sort of difficult to see but definitely worth your time.


Chargers coach Anthony Lynn did not provide details on whether or not Henry will play

Panthers owner Jerry Richardson no longer has day-to-day control of the team

Rally cries for 'St. Nick' are echoing across Pennsylvania as Eagles trudge forward without...
The Panthers will be missing their star linebacker for the rest of the regular season

The Cowboys running back now looks like a tank

Former Atlanta sportswriter Larry Hartstein knows the Falcons and locked in a pick for 'Monday...