Just Because: WWE HOFer Mr. Wonderful had short Saints career
Paul Orndorff didn't make much of an impact in the NFL world.
• 1 min read
If you happened to be on Twitter on Sunday night, you couldn't avoid being hit in the face with a sledgehammer by Wrestlemania XXX results (Undertaker's streak ends! Yes, Yes, Yes! The Spanish announcer's table!).
But luckily, the Saints gave us a moment of clarity when they tweeted out a reminder that Paul Orndorff -- who participated in the main event of Wrestlemania I (he was pinned by that scallywag Hulk Hogan) -- was drafted by New Orleans in the 12th round of the 1973 draft.
He apparently didn't last long.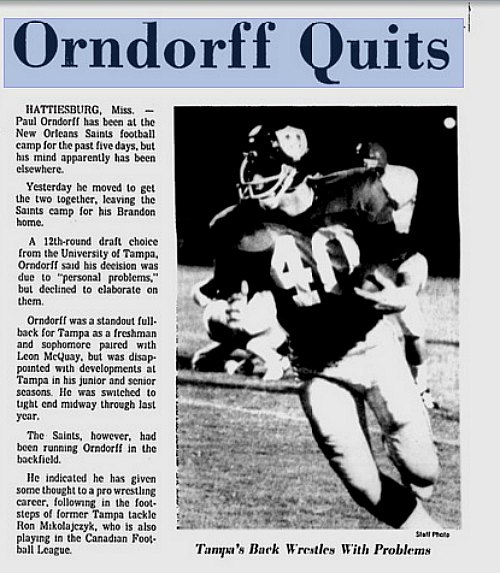 All's well, though. He turned himself into a WWE Hall of Famer, and though he battled cancer a few years back, Orndorff beat back that opponent as well. Here was some of his best work he performed when he was in his prime.
Even without the NFL, Orndorff was, in fact, quite wonderful.
The Titans are getting ready to unveil a uniform that won't be 'anything close' to any other...

The NFL announced on Friday that 32 compensatory draft picks have been awarded to 15 teams
Jonathan Martin's old high school was forced to close on Friday after he appeared to threaten...

It doesn't look like the Jaguars will be making any front office changes anytime soon

The Buccaneers quarterback received a citation after causing a car wreck February 13