Justin Tuck announces retirement after 11 seasons with Giants, Raiders
Justin Tuck, who won two Super Bowls with the Giants, is retiring after 11 seasons.
• 2 min read
After spending 11 seasons crushing quarterbacks, defensive lineman Justin Tuck is retiring from the NFL. Tuck, who played for the Giants and Raiders, revealed his decision with a Facebook post, writing that he's leaving the game "with very few regrets."
In Tuck's career, he recorded 66.5 sacks and 510 combined tackles. Most importantly, Tuck played an instrumental role in the Giants' past two Super Bowl wins, harassing Patriots' quarterback Tom Brady in both of those games.
But, at the age of 32, he's stepping away. Here's how Tuck explained his decision:
"After months of praying and careful consideration, I have decided to retire from the game of football. I've had 11 great years and honestly I leave with very few regrets.

I'm thankful to my family and close friends for their unwavering support. My beautiful wife and kids have dedicated their lives to being my closest support system and I'm eternally grateful.

I want to thank the New York Giants and the Oakland Raiders for giving me a place I could call home all of these years. The Mara, Tisch, and Davis families, I'm forever in your debt. To my coaches: thanks for having me ready at every stage -- the Super Bowls, Pro Bowls, you name it -- thank you for teaching me about professionalism, preparation, and the pursuit of perfection. To my teammates: thank you for always going to battle with me each and every gameday, but more importantly, thanks for being my brothers for life.

And lastly, the FANS. What an incredible environment you've created for me over the years to call a workplace. You all have been so supportive of me and my family, and without you I would have no game to play. I thank you from the bottom of my heart.

This isn't a good-bye, my family and I will continue our charitable work with Tuck's R.U.S.H. for Literacy and we look forward to continuing to give back to communities that have given so much to us. God Bless."
Tuck, who only appeared in five games with the Raiders this past season due to a pectoral injury, also spoke with Fox Sports' Mike Garafolo last week, telling him that he still feels "like I can play with the best of them." However, the injury seemed to play a role in his decision to walk away, with Tuck saying "maybe that was God trying to tell me something."
According to Garofalo, Tuck actually considered retiring back in 2012, but decided to journey on. Now, just as he was set to enter free agency, Tuck's walking away, though he noted that if Tom Coughlin hadn't stepped down as the Giants' head coach, he would've considered returning to New York, where he spent the first nine years of his career.
"It's been like a tug of war, and finally the rope broke," Tuck told Fox Sports, "and where I fell was retirement."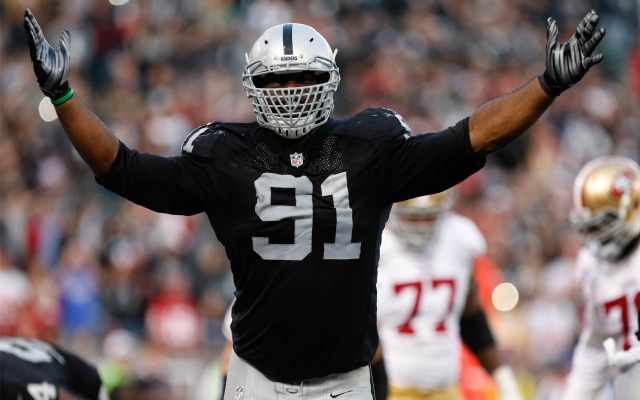 Warren Sapp was one of several players named in a lawsuit against NFL Network

Check out the uniforms that Denver and Indianapolis will be wearing on Thursday

The Cowboys are going to need a few things to go their way to get into the postseason
Rudolph will be put under the microscope in Mobile by clubs looking for a quarterback early...

This fan is taking the Saints to court for using 'football games as a platform for protest...

Can Aaron Rodgers get the Packers to the postseason? Even if they win out, they'll need he...