Kaepernick could net top-5 deal, in NFL history, with NFC title win
On the verge of a second straight Super Bowl trip, 49ers QB Colin Kaepernick -- thanks to the latest CBA -- could be making a trip to the bank with one of the five richest deals in NFL history.
• 3 min read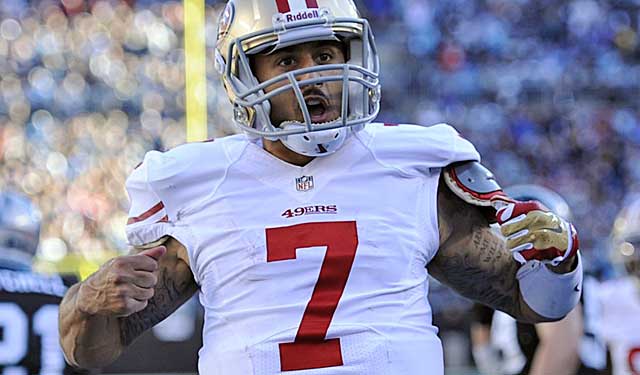 More NFL: Free khakis for Harbaugh? | Latest 49ers news | Latest league news
San Francisco 49ers quarterback Colin Kaepernick is on the cusp of a second straight trip to the Super Bowl, and, a win in Seattle on Sunday is almost certain to catapult the youngster into one of the five biggest contracts in NFL history. Conversations with a wide range of general managers, contract negotiators and salary cap experts revealed an unmistakable reality for the 49ers: Kaepernick is about to earn top cash, especially if he wins.
This is a new frontier in NFL contracts, with Kaepernick perhaps the biggest name among those players who entered the league in the first year of this new collective bargaining agreement. Under that CBA, players must wait until after their third season in the NFL to extend or alter their contracts; Kaepernick is completing his third season and has done nothing but win since taking over starting duties midway through the 2012 season. There are no real comparables in this negotiation given the unique start to his career, and no test cases, as this is the first draft class to reach this stage in the NFL CBA.
It's rare for one game to matter so much, but the consensus among the execs I spoke to was that indeed, it does. Should the 49ers lose, the 49ers might retain a sliver of leverage, given he is still under contract for 2014, plus the fact the 49ers conceivably could franchise him in 2015 and 2016 (though that is a rarity for quarterbacks). With his sample size still small, perhaps that opens up the possibility of a bridge contract, to get from the horribly-below market rookie contract to a deal that propels Kaepernick above the $18 million-a-season that quarterbacks like Jay Cutler and Tony Romo have attained despite their utter lack of any postseason pedigree or wins.
However, several sources cautioned it is virtually certain Kaepernick would not agree to a "band-aid deal," that would look to cut into his potential free-agent years at a below-market rate. Those who know him well know how stubborn Kaepernick can be, and highly doubt he would consider a two- or three-year deal under these circumstances with what he has accomplished, considering he has pocketed only $4M total in his three years (including all bonuses). Some believe that Kaepernick wouldn't do a short-term deal that did anything but rework the final year left on his existing contract (worth $1M in 2014), and that he would even play out his entire rookie deal, a la Joe Flacco, if need be rather than strike a contract that was not commensurate with his play to date.
Even a hypothetical two-year deal that paid Kaepernick the 2013 franchise tag for quarterbacks ($16.5 million per year) -- $33M for two years -- likely wouldn't fly, some believe. But the execs I spoke to hypothesized that if that kind of money were on the table the young man might have a hard time walking away from it. Others point to the fact Flacco did just that, and ended up instead topping the $20 million a year mark and getting the biggest contract in league history at the time he signed his deal last year.
And, should Kaepernick win the Super Bowl, I found a unanimous sense that the 49ers would have almost no chance of signing him for less than $20 million a year. Regardless, Kaepernick has likely set himself to land a top-five contract, and a win would only cement that. A victory could also end up huge for 49ers coach Jim Harbaugh, who will also be negotiating a new deal this offseason, one that many expect to include him taking over more control from 49ers general manager Trent Baalke.
It is no secret in league circles that the relationship between Harbaugh and Baalke has become more frayed, and back-to-back trips to the Super Bowl would cement Harbaugh's leverage as a coach worth more than $7 million a season, and coaches making that kind of money usually have a good deal of roster control. Harbaugh already has been to three straight NFC Championship Games and he is a champion of Kaepernick's, making the bold decision to turn over his team to the novice after Alex Smith's concussion last season and riding him all the way to coming within a play of winning the Super Bowl.
Ultimately, they could end up making a bounty of money for each other, particularly should they be celebrating a victory in Seattle.
The Steelers didn't have to look far to find their replacement for Todd Haley

The pop superstar will seek halftime show redemption at Super Bowl LII

Our computer model simulated the AFC and NFC title games 10,000 times with surprising resu...
Todd Haley's name has also been floated as a possible replacement

It wasn't the matchup that we expected, but the Jaguars would argue that's everyone else's...

CBS All Access allows viewers to stream every NFL game on CBS in their local market