Kaepernick done in San Francisco, virtually certain not to return in 2016
The relationship between Kaepernick, a Super Bowl starter just three years ago, and the organization has eroded to the point of no repair.
• 2 min read
The benching of 49ers quarterback Colin Kaepernick this week has only heightened the frayed relationship between him and the upper management of the team and created a climate in which it is virtually certain he is not back in San Francisco in 2016, according to team and league sources.
Trust between the player -- viewed as a franchise quarterback and potential superstar when leading the team to the Super Bowl just three years ago -- and the organization has eroded to the point where any cosmetic attempts to rebuild bridges are essentially a lost cause, and the prospect of Kaepernick actually playing there next season are viewed as a non-starter.
Kaepernick has not asked for a trade, though the 49ers were among the clubs who were open to dealing pretty much anyone on their roster before Tuesday's deadline, including their quarterback, according to league sources. His benching this week, for Blaine Gabbert, has further polarized the locker room, sources said, and several of Kaepernick's teammates believe he would ask for a trade or his release rather than stay with the 49ers next year.
Short of Gabbert getting hurt, Kaepernick rallying the 49ers on an improbable playoff run and him hitting key salary triggers in his contract -- a scenario beyond remote -- those close to the situation cannot fathom him being back there next season, when he would make upwards of $15 million in 2016, and even that end result would far from assure the sides would want to proceed together.
Kaepernick's 2016 salary becomes fully guaranteed if he is on the roster come April 1, and many close to this situation anticipate a resolution coming at the February scouting combine, where many major trades are finalized (including the 49ers deal that sent former starter Alex Smith, who lost his job to Kaepernick, to Kansas City for draft picks in 2013).
Several teams said privately they had interest in Kaepernick prior to Tuesday's deadline, though the intricacies of his contract and $20-million cap hit in 2015 made any deal at that time tricky to execute. Trading the quarterback in 2016 triggers just a $7-million cap hit for the 49ers, who have abundant space in rebuilding mode.
Kaepernick's tenure with the team has become so divisive -- he's viewed as a favorite of former coach Jim Harbaugh, who had a very public falling out with owner Jed York -- and issues between player and club have become so personal that any long-term resolution is basically a moot point, with the situation essentially beyond repair.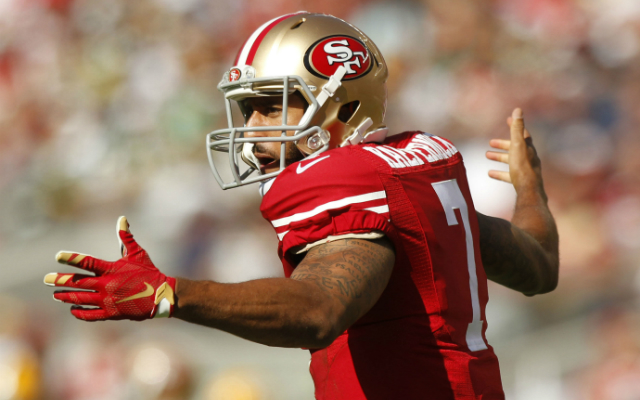 Warren Sapp was one of several players named in a lawsuit against NFL Network

Check out the uniforms that Denver and Indianapolis will be wearing on Thursday

The Cowboys are going to need a few things to go their way to get into the postseason
Rudolph will be put under the microscope in Mobile by clubs looking for a quarterback early...

This fan is taking the Saints to court for using 'football games as a platform for protest...

Can Aaron Rodgers get the Packers to the postseason? Even if they win out, they'll need he...