Kansas City Chiefs 2014 offseason preview
With the 2013 season officially in the books the Eye on Football staff is looking ahead to the offseason for all 32 NFL teams. Next up: The Kansas City Chiefs.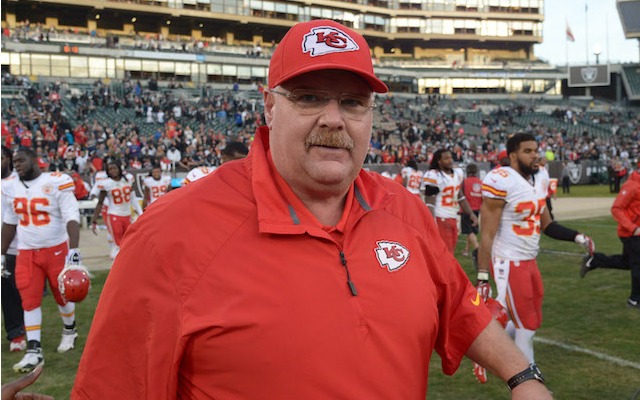 With the 2013 season officially in the books the Eye on Football staff is looking ahead to the offseason for all 32 NFL teams. Next up: The Kansas City Chiefs.
Maybe the Kansas City Chiefs should trade for a 49ers quarterback every offseason. It worked with Joe Montana in 1993 when he led the Chiefs to the playoffs in his first year with the team and it worked in 2013 with Alex Smith . For Kansas City's offense, going from the combination of Brady Quinn and Matt Cassel in 2012 to Alex Smith in 2013 was like going from a slightly used bike to a Corvette that you only had to pay two draft picks to get.
Smith was good last season because he was good at running Andy Reid's offense. It's a pairing that could have blown up quickly if Smith had been unsuccessful early on, but that didn't happen and the Chiefs shot out of the gate in 2013 and won their first nine games. The Chiefs rode that winning streak to the postseason where they took a gut punch from the Colts.
No one wants their season to end in a game where they blow a 28-point lead, but keep in mind, it could've been worse for fans Kansas City; the Chiefs could have not been in the playoffs at all. Another thing that would have been worse? If Derrick Johnson had injured Jamaal Charles with this Chief-on-Chief Pro Bowl hit. Didn't Johnson watch the Chiefs' playoff game? Didn't he know Charles was only three weeks removed from a concussion?
What went right
After a season in 2012 where almost everything went wrong, the opposite happened in Kansas City in 2013 and almost everything went right. The Alex Smith trade paid off and it paid off quickly. Smith had seven touchdown passes after Week 4 which is only one less than Quinn and Cassel combined to throw for in 2012. Things went right for Andy Reid too, he got to go back to Philadelphia in Week 4 and exact revenge on the Eagles in prime time on Thursday Night Football. Kansas City won its first nine games of the season, tying the franchise-record for longest regular-season winning streak that was originally set in 2003.
What went wrong
The second half of Kansas City's playoff loss to the Colts kind of sums up what went wrong in 2013. The Chiefs defense blew a 38-10 second half lead in a game that Kansas City would lose 45-44. The 28-point comeback was the second biggest in NFL playoff history. It's hard to say anyone saw the defensive collapse coming, but the signs were there. The defense -- and especially the secondary -- struggled over the final eight weeks, including the playoff loss.
Kansas City didn't give up 300 yards passing to any opposing quarterback during the season's first nine weeks, but over the final eight weeks, it happened five times. There probably also should have been a red flag raised somewhere when the Raiders put up 31 points on the Chiefs, marking the only time all season that Oakland scored 30 or more points.
MVP
Jamaal Charles. The Chiefs scored 41 offensive touchdowns in 2013 and Charles scored almost half of those (19). But that doesn't even do justice to what Charles meant to the Chiefs offense. The running back led the Chiefs in receptions (70) and receiving yards (693). And rushing yards (1,287). And rushing touchdowns (12). And receiving touchdowns (7). Charles pretty much led the Chiefs in everything. Oh and I haven't even mentioned his total offensive yards yet. Charles totaled 1,980 offensive yards in 2013, more than the Chiefs next three highest players -- Dwayne Bowe , Donnie Avery and Dexter McCluster -- combined.
LVP
Dunta Robinson . Not only did Jamaal Charles lead the team in almost every offensive statistic, but he almost recorded more tackles (4) in 2013 than Robinson did (13). When your running back only has nine less tackles than your cornerback that you signed to a $13.7 million deal, that's a problem, but it's a problem the Chiefs fixed by cutting him. Robinson only started two games in 2013 and only played in a total of eight games.
What has happened since the season ended
It's been a quiet offseason in Kansas City for everyone not named Dunta Robinson. Robinson, who signed a three-year, $13.7 million deal with the Chiefs in March, was cut in early February. The move adds about $3 million in 2014 cap space for the Chiefs, something the team desperately needed. Kansas City's offseason has also been an endless 'Will they or won't they' debate when it comes to re-signing Branden Albert -- which leads us directly to our next topic.
Impending free agents
If you have a piece of paper in front of you that lists Kansas City's starting offensive line from 2013, go ahead and set that piece of paper on fire because you won't be needing it for 2014. The Chiefs have three big free agents on the offensive line and it's highly unlikely that all three end up back in Kansas City next season.
There have been reports that the Chiefs have no intention of keeping left tackle Branden Albert, however, general manager John Dorsey disputed that notion at the combine saying that he 'had conversations with Braden's representatives.' The problem for Dorsey is that even if he wants to keep Albert, it's unlikely he'll be able to afford the kind of money Albert is expected to demand.
The Chiefs will probably also have to make a decision between Geoff Schwartz and Jon Asamoah . The two offensive lineman split time at right guard last season and it may not make financial sense to keep both players. If the Chiefs only keep one, Schwartz might be the better choice because he can do almost everything on the offensive line. During his five-year career, he's started games at both guard spots and right tackle.
Here's the complete list of the Chiefs unrestricted free agents:S Hussain Abdullah, LT Branden Albert, G Jon Asamoah, S Quintin Demps , DE Tyson Jackson , LB Robert James, LB Akeem Jordan , S Kendrick Lewis , WR Dexter McCluster, G Geoff Schwartz, WR Kyle Williams , LB Frank Zombo .
Free-agency game plan
If you watched Colts quarterback Andrew Luck throw for 443 yards and four touchdowns against the Chiefs in the playoffs, you may have thought to yourself, 'Wow, Kansas City could really use some safety help.' If you thought that, you thought right. However, if the Chiefs are going to make a big splash and get a safety, they might have to wait until the draft to do it. The Chiefs aren't expected to have a lot of wiggle room under the cap -- they should have around$6.5 million-$8.5 million depending on the final 2014 cap number -- so it's unlikey they'll sign any big names. Besides safety, Kansas City could also use a wide receiver. And preferably one who doesn't drop passes when they're wide open.
Draft game plan
Preparing for the draft is probably going to be a little different for Andy Reid this year. In 2013, Reid and the Chiefs had the top pick, so they didn't have to worry about what any other team did. This year, Kansas City won't make its first selection until the 23rd overall pick. A wide receiver, tight end or anyone in the secondary would probably make the most sense for the Chiefs.
The first round pick is a big one for Kansas City because after that, there's going to be a little bit of a lull for everyone in the war room. The Chiefs won't pick again until the third round because Kansas City sent its second round pick to San Francisco as part of the Alex Smith deal.
If Kansas City does go wide receiver with the 23rd pick, it wouldn't be the first time: Dwayne Bowe was drafted with the 23rd overall pick in 2007.
So who will the Chiefs take in the first round? CBSSports.com senior NFL columnist Pete Prisco hasKansas City going withLSU receiver Odell Beckham Jr. CBS Sports NFL Insider Pat Kirwan thinks the Chiefs will grab North Carolina tight end Eric Ebron in the first round. NFLDraftScout.com's Dane Brugler and Rob Rang have the Chiefs taking Beckham and Alabama safety Ha Ha Clinton Dix in their mock drafts.
Ridiculously premature prediction for 2014
Here's a list of all the team's Kansas City plays in 2014 that had a losing record in 2013: St. Louis, Tennessee, Buffalo and Oakland twice. That's only five games. That means the rest of Kansas City's schedule is hard. As a matter of fact, it's so hard that it's ranked seventh toughest going into next season. Strength of schedule can definitely fluctuate -- bad teams from the prior season can be good and good teams can be bad -- but it's hard to see that happening with most of the good teams on Kansas City's schedule. The Chiefs play five games against teams that have been good consistently and should be good next year: New England, San Francisco, Seattle and Denver twice.
What I'm trying to say here is that even if Kansas City fields a better team next season, they might not end the year with a better record. Actually, I'm not trying to say that, that's exactly what I'm saying.
Predicted record: 9-7
The youngest coach in NFL history isn't coming off as someone out of his depth -- just the...

Henry is ready to take on a more substantial role in the Titans' run-heavy offense

In the past week, Marshawn Lynch and Michael Bennett have both sat during the national ant...
As expected, the internet had jokes about the Chick-fil-A at Mercedes-Benz being closed on...

Harrison is the franchise's all-time leading sacker, but J.J. Watt's brother will get the starting...

More than 17 percent of fans say they would never consider dating a Pats fan