Ken Whisenhunt: 'No rush' on Chris Johnson roster decision
Asked if he was 'optimistic' that Chris Johnson would be on the Titans roster in 2014, Ken Whisenhunt gave an all-time vague response.
More Draft: NFL Mock Drafts | Big Board | NFL combine news and updates
INDIANAPOLIS -- It wouldn't surprise anyone if the Titans end up moving on from running back Chris Johnson before 2014 begins. Johnson is due a lot of money in the next few years and Tennessee could clear up some salary cap space by cutting the former 2,000-yard rusher.
Asked at the 2014 NFL Combine if he was "optimistic" about Johnson being on the roster in 2014, new Titans coach Ken Whisenhunt did the whole "repeat-the-question-and-evade-an-answer" thing.
"Am I optimistic he'll remain on the team?" Whisenhunt said. "It's a process you go through with everyone on your football team. Putting together the team is not an exact science. So we're under no deadline to do it. We have a lot of things to evaluate going forward. Chemistry's a big part of it. There's no rush to make a decision."
What does that even mean? Just kidding. I know what it means: nothing. Seriously, read the quote again. Whisenhunt was asked for a specific answer and purposely went vague because he knew a firm answer will lock him in on a specific direction.
Whisenhunt didn't even want to be specific about Johnson as a player either.
"I see a player that's there every Sunday," Whisenhunt said. "He's done good things. Been to Pro Bowls. you can't speak to anything other than he practiced every day from what I've seen. You look at the records from last year and he played in a lot of games." 
I don't want to put words in Whisenhunt's mouth or anything but if you read between the lines on his answers to Chris Johnson questions, you definitely wouldn't expect him to be "optimistic. Based on his preference not to answer the question at all, you have to think there's a strong chance Johnson won't stick around in Tennessee.
Titans GM Ruston Webster, speaking right after Whisenhunt, said the team can be "as patient as we want to be" with the Johnson decision.
"He's never coached Chris Johnson," Webster said of Whisenhunt. "He's going through the evaluation process himself. We're not going to push it if a decision was needed to be made. I think we can be as patient as we want to be."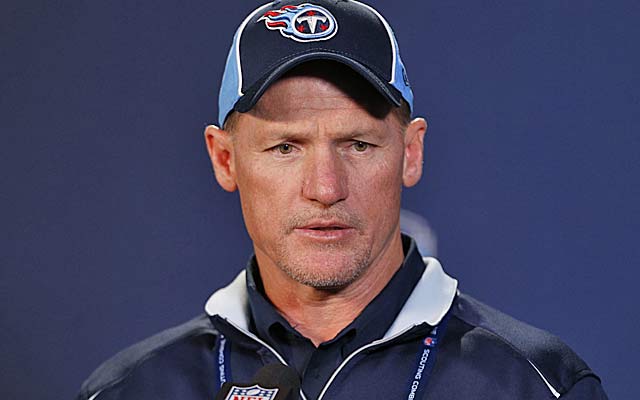 Woods injured his shoulder during the Rams' loss to the Vikings on Sunday

CBS All Access allows viewers to stream every NFL on CBS game in their local market

With Smith out for the last two weeks, the Dallas offense has gone into a tailspin
Once considered favorites for a deep playoff run, the Raiders are instead a big disappoint...

Carson Wentz's rise to league-wide fame is but one of several monumental reasons for Philly's...

The Michigan senior has wreaked havoc and distanced himself from other defensive tackle pr...