Ken Whisenhunt picked Titans because of chemistry, more money
Ken Whisenhunt was a popular head-coaching candidate. On Tuesday, he said why he picked Tennessee.
• 1 min read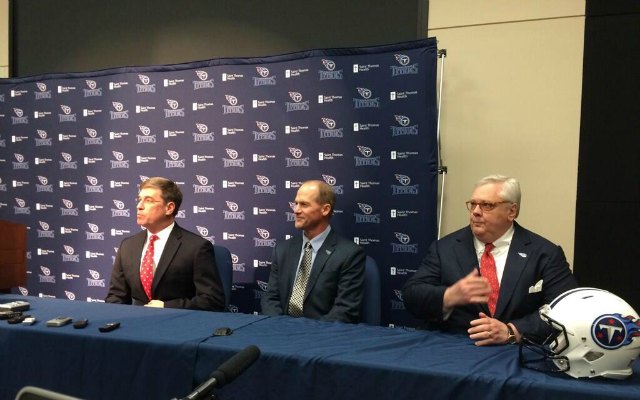 When former Chargers offensive coordinator Ken Whisenhunt took the Tennessee head coaching job on Monday, he had options. He also reportedly was the No. 1 choice for the Lions, and the former Cardinals head coach had interviewed with the Browns as well.
So, why did he end up going with the Titans?
"Any time an organization has an interest in you, it's very flattering," Whisenhunt said at his introductory news conference Tuesday. "Detroit and Cleveland, both great organizations. What it came down to was you have to feel comfortable with the direction you're going and who you're doing that with."
Whisenhunt made it clear he wasn't taking a shot at any other team (though the Browns and the way they've handled their business lately seemingly have made it difficult for coaches to want to stay in the running for that job). Rather, Whisenhunt said his decision was based more on science.
"One of the things I've learned in the NFL is that chemistry is an important part of this," he said. "When you feel like you have chemistry and you're excited, that plays a big part of it."
And also money, of course.
As ESPN.com's Paul Kuharsky reported Tuesday, the Titans offered Whisenhunt $1 million more per year than the Lions did.
Chemistry and $1 million more per season. Yeah, you can see why Whisenhunt might have picked the Titans.
Follow Josh Katzowitz on Google+
With their 2017 season over, it's time for Jaguars fans to turn their attention to the dra...

With just a few tweaks to the roster, the Jaguars could be the new AFC powerhouse next sea...

Go ahead and buy your championship gear ahead of time, Eagles fans
Philadelphia fans might want to take it down a notch and not poke the bear

It was a valiant effort from the city, but fans would not be deterred

It was utter and total chaos in Philadelphia after the Eagles beat the Vikings