Kenny Britt is frustrated but won't show it
Titans receiver Kenny Britt is having the worst year of his career, but he's trying to stay positive.
• 2 min read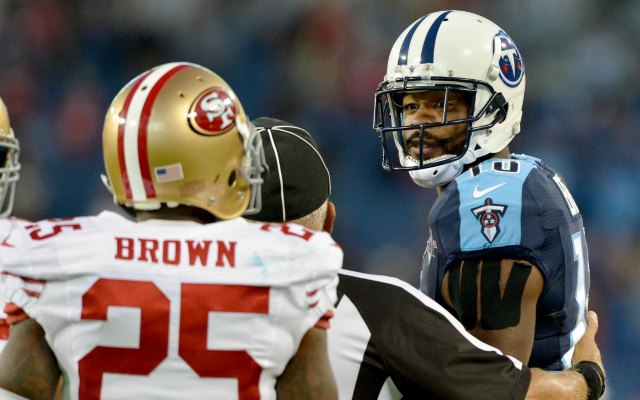 Titans receiver Kendall Wright has caught 59 passes this season, the most of anybody on the Tennessee squad. Tight end Delanie Walker has hauled in 39, while receiver Nate Washington has recorded 31. Running back Chris Johnson has managed 24 receptions, while Damian Williams has accumulated 14.
Then, comes Kenny Britt. He has eight catches on the season. For 67 yards and zero touchdowns.
Those should not be the statistics of the No. 30 overall pick from 2009. But after a volatile five-year stay in Tennessee, complete with multiple arrests and very little elite on-field action, his time with the Titans has grown short.
The team tried to trade him for a third-round pick earlier this year, but it found no takers. Instead, some teams considered a fifth-rounder a fairer offer for Britt's services.
Overall, Britt has played on just 36 percent of the team's offensive snaps this season, and six weeks after offensive coordinator Dowell Loggains said the team would have to reassess everything with Britt, the verdict is in. Britt's time in Tennessee is limited.
But if you expect Britt to show his frustration, you'll be waiting a while.
"I am definitely surprised with me not playing. I really don't know the reason, and I don't ask the reason why, I just go out there and do my job," Britt said, via the Tennessean. "Since I have been benched I have been working 10 times harder … to show what I can do.
"It is definitely frustrating, but I try not to show it. I don't want to show it because it is not about me. But I can promise you I am definitely going to keep fighting until the end."
Britt hasn't caught a pass in about a month, and he's only been targeted twice in the past three games combined. Coach Mike Munchak has spoken positively about Britt's practice performances, but Britt has lost his starting job and it doesn't appear as if he'll get it back. Still, Britt is in the final year of his contract, and his lack of playing time likely won't help get him a rich new deal.
"When I get mad, I try and keep it to myself. You can ask my wife about that," Britt said. "She asks me what's going on at work and she knows I am frustrated and don't talk about it, but I wake up in the morning with a smile on my face. There are guys that make a stink, but I wasn't built that way. I won't do that."
Follow Josh Katzowitz on Google+
The Cowboys legend admits he's not on 'great' terms with the Cowboys suspended running bac...

Here's the latest information on injured Steelers linebacker Ryan Shazier

The Titans quarterback has had a frustrating season but maintains that's not an excuse for...
The Seahawks defensive lineman almost ended up in the stands fighting Jags fans last Sunda...

The Colts quarterback has been out of the country since mid-November

The MVP candidate is fresh off a successful surgery for a torn ACL