Kickoff time changed for Texans at Chiefs in Week 7
The kickoff time for Houston's Week 7 game at Kansas City has been moved to 4:25 p.m., the NFL announced on Thursday. The game was originally scheduled to kickoff at 1 p.m.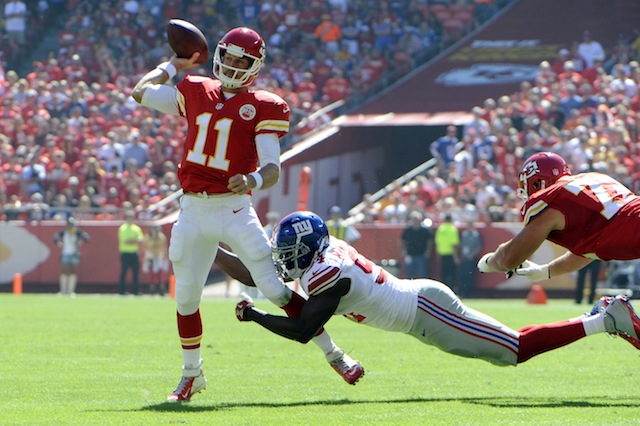 No AFC West kickoff time is safe. 
The NFL announced on Thursday that the start time for Houston's Week 7 game at Kansas City has been bumped to 4:25 p.m. ET. The Chiefs and Texans were originally scheduled to kickoff at 1 p.m. ET. The game will still be televised by CBS. 
That's the second kickoff time that's been changed in 2013 and both changes have involved a game where an AFC West team is hosting. The Raiders Oct. 6 game against the Chargers was moved from 4:25 p.m. ET to 11:35 p.m. ET because of a conflict with the Oakland A's.
The Athletics will be hosting an MLB playoff game at 9:07 p.m. ET on Oct. 5, so the Raiders kickoff time had to be pushed back to give the stadiums grounds crew enough time to change the configuration for O.Co Coliseum from a baseball field to a football field. 
Switching the Chiefs-Texans had nothing to do with playoff baseball, it had more to do with making sure fans had something to decent to watch in the late afternoon time slot in Week 7.
Before the schedule change, CBS wasn't going to have any winning teams in that time window with 2-2 Baltimore playing at 0-4 Pittsburgh and 2-2 Cleveland playing at 1-2 Green Bay.  
The late start means Texans fans might have to time stop at this Houston-area restaurant to get a Matt Schaub pick-6 burger before settling down to watch the game. 
Plus the Saints are rolling in the NFC South, the Falcons are in trouble, the Bears are weird...

Here are the Week 7 grades for every team that played on Sunday

It was the Falcons' first score against the Patriots in over 90 minutes of game time
Hooker, the 15th pick in the draft, was in the middle of a stellar rookie year

Plus Jordy Nelson's lonely pre-game, Jamal Adams' Milly Rock, Le'Veon Bell's stiff arm and...

Justin Timberlake is headed back to perform at the Super Bowl for the first time in 14 yea...