Kirk Cousins explains his baffling decision to kneel the ball before half
Kirk Cousins explains why he kneeled the ball when he was supposed to spike it.
Redskins quarterback Kirk Cousins played an almost perfect game in Washington's 38-24 win over the Eagles on Saturday. However, it wasn't perfect though, thanks in large part to the fact that right before halftime, Cousins made one of the worst clock management decisions in recent NFL history.  
With just six seconds left in the first half, the clock was running and the Redskins needed to stop it somehow because they were out of timeouts. 
The obvious move here: Spike the ball. 
Washington was at Philly's 6-yard line, so a simple spike would've set the Redskins up for an easy field goal. 
Instead of a spike though, Cousins did this. 
Ian Eagle describes perfectly the moment that Kirk Cousins lost his mind pic.twitter.com/F2ONyKsewX

— Deadspin (@Deadspin) December 27, 2015
That's a kneel down, which doesn't stop the clock, so the half was over.
Cousins decision was so baffling that even Redskins coach Jay Gruden was confused. 
"I don't know why Kirk took a knee," Gruden said during a halftime interview. 
So what exactly was Cousins thinking? 
Basically, he had a "lapse" in judgement. 
"There was a lot of confusion with what the play call was," Cousins said, via USA Today. "For lack of a better word, I just had a lapse in my decision-making and took a knee when I should've thrown the ball away to stop the clock. We were fortunate it didn't end up hurting us."
As for Gruden, he was proud of Cousins for not collapsing in the second half after ending the first half on such a sour note. 
"He came in here and we had the debacle at the end of the half and a normal guy could have gone in and tanked there," Gruden said after the game, via the Washington Post. "He just came in there and kept his composure just like he has all year. Just like he has done his whole career. He kept his composure and just kept his nose to the grindstone and kept battling and competing and doing what he's supposed to do, man."
The good news for the the Redskins is that the Cousins blunder didn't cost them in the end. Washington won by two touchdowns and that was thanks in large part to Cousins, who threw for 365 yards and four touchdowns.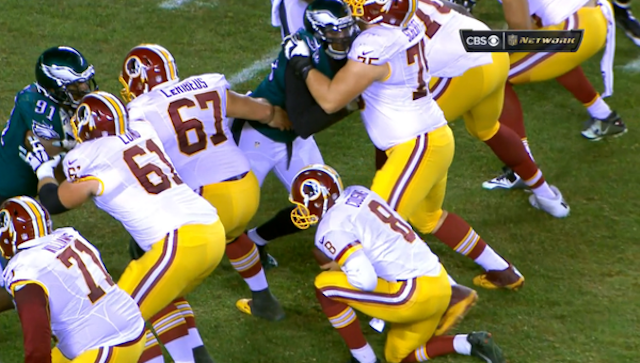 Pick Six Newsletter
Get the day's big stories + fun stuff you love like mock drafts, picks and power rankings.
Please check the opt-in box to acknowledge that you would like to subscribe.
Thanks for signing up!
Keep an eye on your inbox for the latest sports news.
Sorry!
There was an error processing your subscription.
Mahomes has 4-1 odds to win back-to-back MVPs

Williams was expected to help clean up the team's offensive line issues

Ramsey instead decided to say how excited he is for Nick Foles
R.J. White has crushed the Las Vegas SuperContest twice

Cooper is impressed with Prescott's work ethic

Washington has a tough season-opening schedule and Theismann thinks Haskins should sit and...