Knowshon Moreno on his tears: 'The emotion always gets to me'
Knowshon Moreno's powerful tears were caused by the emotion in the moment of the national anthem.
• 1 min read
Before Sunday's Broncos-Chiefs game, Denver running back Knowshon Moreno showed the strength of his tear ducts and the intensity of his lacrimal glands when he cried what turned out to be tears of joy during the singing of the national anthem.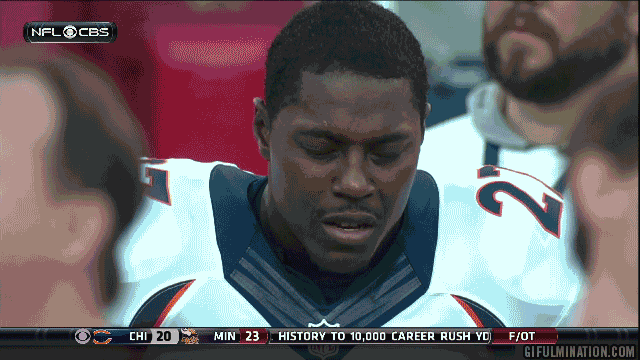 So, what was the deal with the pregame crying -- which apparently is rather common for Moreno (which, to me, is pretty darn cool)?
"The emotion always gets to me," Moreno told Yahoo Sports. "I am just thinking about everything in general through your whole life, just balled up into one. Yeah, it helps me. Sometimes I don't even notice it, it just comes."
And his liquid show of emotion doesn't turn off his teammates. No, they apparently feed off his tears (not literally, of course).
"The [tears] are actually toughness," running back Montee Ball said. "I see it all the time. He does it in practice and he does it in games. It is all heart, it is his passion for the game. It is massive. We all feed off that energy. A lot of stuff sets him off. He just brings that energy when we need it."
Follow Josh Katzowitz on Google+
Could Janet Jackson make an appearance with Justin Timberlake at Super Bowl LII?

In case you weren't positive that the president has a fixation with the NFL, here's the statistical...

Payton emphasized screw-on cleats -- and the Saints rewarded him with a win
The Texans starting left tackle lost out on millions during his lengthy holdout

It's Matt Moore time in Miami for the time being after tests confirm Cutler's cracked ribs

The fog was clearly part of Bill Belichick's diabolical plan to beat the Falcons