Kubiak: Keenum 'has to continue to play well to stay in there'
Just because quarterback Case Keenum has played well in relief of Matt Schaub, that doesn't mean he'll continue to start.
• 1 min read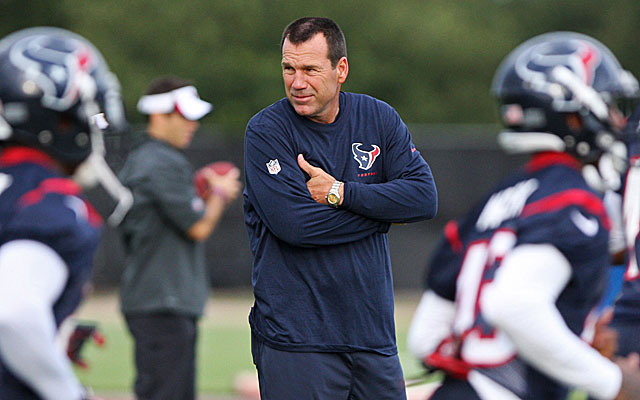 Texans coach Gary Kubiak on Wednesday made his first appearance in front of the media since suffering a mini-stroke at halftime of Houston's Week 9 game vs. the Colts. He joked with reporters by asking them if they had missed him, and he confirmed that he plans to  coach this weekend vs. the Raiders.
But when asked about current Texans starting quarterback Case Keenum, Kubiak wasn't quite as concrete and was unwilling to commit to using the former third-stringer for the rest of the season.
"He has to continue to play well to stay in there," Kubiak said. He also said that former starter Matt Schaub is "playing really hard" and wants to take back his old job.
Thus, even though Keenum has thrown seven touchdowns against zero interceptions in his three starts (he's 0-3, for the record) and even though his quarterback rating of 105.1 outshines Schaub's 78.8 AND even though the Texans are 2-7 and probably should be looking to a future that likely doesn't include Kubiak, Keenum shouldn't get comfortable in that No. 1 role quite yet.
As for the release of safety Ed Reed, Kubiak said: "It was about football. We're playing the young guys. I thought it fair to him to play somewhere else."
And as for what Kubiak remembered about his collapse on the field two weeks ago: "I really don't remember a whole lot. I remember right before the half not feeling real good. I had a headache and that's about the last thing I remember [until] I was over at the hospital talking to some different people."
Follow Josh Katzowitz on Google+
There is suddenly a wide open NFC playoff race and the MVP battle could get interesting to...

Pittsburgh is headed to its fourth consecutive postseason appearance

The NFC is going to be a blast to watch down the stretch
Here are the Week 14 grades for every team that played Sunday

Someone apparently threw a drink at Jefferson as he left the field and he was not happy about...

All of the best highlights from Week 14 are right here