Kyle Shanahan on 2013 with RG3: It will make us both better
The 2013 season might have been a bad one for the Redskins, but there's a silver lining: Kyle Shanahan thinks it will make both him and RG3 better in the long run.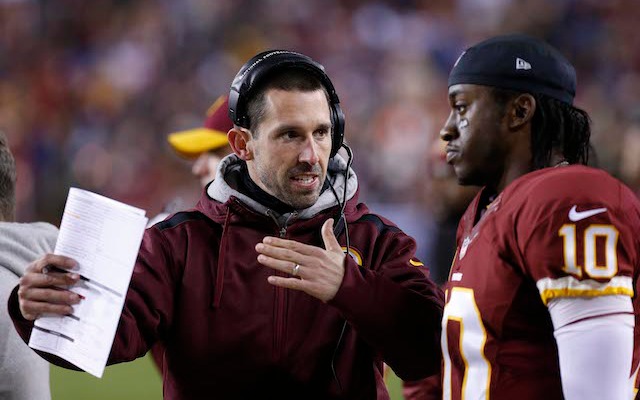 The 2013 season wasn't a complete loss for Redskins quarterback Robert Griffin III, at least according to former Washington offensive coordinator Kyle Shanahan. During his introductory press conference in Cleveland on Thursday, Shanhan said be believes that the struggles he went through with RG3 in 2013 will eventually make them both better.   
"I'm not going to say it was easy. Nothing's easy when you go through something like that. But I do believe going through it, Robert and I in the long run, it'll make both of us better," Shanahan said, via the Cleveland Plain Dealer. "I think when it's all said and done and Robert and I look back on it, I'm really appreciative of some of the stuff he did for me, and I really believe he'll be appreciative of some of the stuff I did for him."
The relationship between RG3 and the Shanahan family may have been the most dysfunctional one in the NFL last season. After Griffin was benched by Mike Shanahan in mid-December, Kyle went on the record saying he was against benching RG3. 
Later in December, a member of the Redskins organization told CBS Sports NFL Insider Jason La Canfora that Kyle "has no relationship at all with (RG3)."
So maybe Griffin won't be better after all of this, but Shanahan actually might be. He said the experience in Washington will help him work with a rookie quarterback if the Browns decide to draft one. 
"Anytime you bring a rookie in and you start him right away, you gotta find out what they do good," Shanahan said. "You've got to make sure you put them in a situation to be successful, don't ask too much of them. Usually if you spend a high pick on a guy, there's some stuff that they do pretty good. You gotta really figure out what that is by studying college tape. You gotta figure out and anticipate how the NFL is gonna play that stuff when you put that in your scheme. I think the most important thing is asking them to do what they're great at and then working and improving at other aspects of their game." 
Shanahan and the Browns have the fourth overall pick in the 2014 NFL Draft.  
Wentz is doing everything he can to help Nick Foles lead the Eagles to the Super Bowl

Bell reportedly showed up for only the last five minutes of the team's walkthrough

Two super-sized runners and a pair of tall wideouts have the skills to shine during a week...
The Vikings become the first team to play in a Super Bowl held in their home stadium

Belichick was predictably mum in regards to Brady's status

R.J. White, who nearly won the Las Vegas SuperContest, locks in his pick for the NFC Championship...