Kyrie Irving to Browns WR Josh Gordon: Mind your own business
Browns receiver Josh Gordon has gotten into an intracity squabble with Cavaliers guard Kyrie Irving.
• 1 min read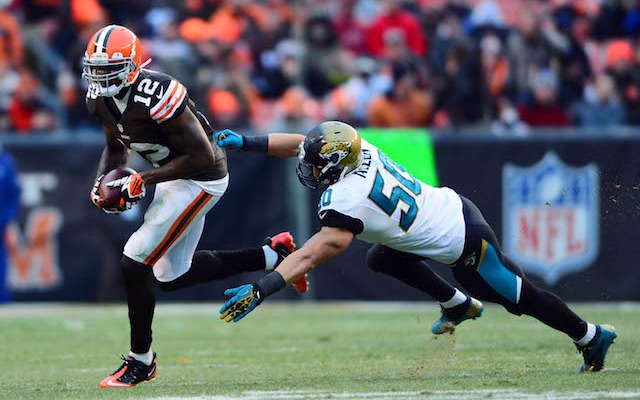 Apparently, there are other sports that are played besides football, and apparently, people watch these sports and comment on them. Also, some football players pay attention to other non-football athletes as well.
And this is how Browns receiver Josh Gordon has gotten caught up in an intracity spat with a Cleveland athlete who plays basketball in this whole other league called the National Basketball Association.
Here's a quick background by CBSSports.com colleague Royce Young on Cavaliers guard Kyrie Irving and why he might want to get the heck out of Cleveland. Apparently, Irving and his teammate, Dion Waiters, have chemistry issues, and since Gordon and Waiters are buddies, the Browns receiver felt like he should give his analysis on the situation recently on ESPN's First Take (via cleveland.com).
"I talked about it with Dion. He's my neighbor in my building so we hang out all the time," Gordon said. "I'm aware of the rift in the locker room. That's just alpha males and supreme athletes trying to share the spotlight."
Asked if it might be better if Irving and Waiters weren't teammates for much longer, Gordon said, "I'm not opposed to that. It might play out better."
Irving apparently didn't appreciate Gordon's comments.
"Guys like Josh Gordon need to stay in his sport and mind his own business," Irving said, via the Akron Beacon Journal. "Does he still play for the Browns? I'll continue to root for the Browns, but in terms of this stuff here, what goes on in this locker room, he needs to stay out of it."
After seeing that, an amused Gordon posted this on Twitter.
Smh.. ? think i touched a nerve lmao @dionwaiters3 #racetotheplayoffs? http://t.co/6K3r5mYy5l

— Flash Gordon (@JOSH_GORDONXII) April 6, 2014
In other news, there are still five more months before the next NFL season begins.
Alex Van Pelt didn't specify whether Dalton could be Joe Flacco-level elite, however

Things don't change in the alternate universe where Wentz stays healthy as far as Pederson...

Khalil Mack, Aaron Donald and Odell Beckham top list, with $20M per year non-QB on the hor...
The future Hall of Fame kicker will be back in the saddle for another year with Indianapol...

As it turns out, finding an immediate impact first-round wide receiver is a lot harder than...

March 14 is coming up pretty quickly and the Saints have to hurry up and sign Drew Brees