LaDainian Tomlinson announces retirement, press conference Monday with Chargers
LaDainian Tomlinson announced his retirement on Sunday, and will sign with the Chargers on Monday before officially retiring in San Diego.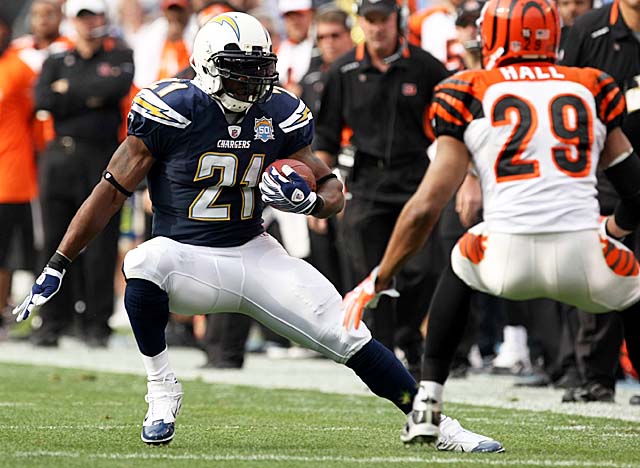 Tomlinson spent his first nine years in the NFL in San Diego, where he re-signed Sunday. (Getty Images)
LaDainian Tomlinson is retiring and, in what should be good news for nostalgic football fans, he's going to retire as a member of the Chargers.
L.T. and the Bolts announced Sunday that the team will sign Tomlinson briefly before he makes it official and walks away from the game at a press conference scheduled by the Chargers, featuring Tomlinson and Chargers president Dean Spanos.
"There is no doubt L.T. is going to be regarded as one of the best backs to ever play," one of Tomlinson's former teammates, Philip Rivers said. "The only regret I have is not winning a championship while he was here."
Tomlinson was drafted fifth overall by the Chargers in the 2001 NFL Draft and instantly became one of the highest-impact players in the NFL. He rushed for 1,236 yards in his rookie season and that was his lowest total until he rushed for 1,110 yards in 2008. He's currently fifth all-time in rushing yards, behind only Curtis Martin, Barry Sanders, Walter Payton and Emmitt Smith.
He is also 55th overall on the all-time list for receptions leaders, which is mind-boggling, given that, you know, he's a running back. Only Marshall Faulk has more among backs.
Tomlinson's 2006 season could arguably be the greatest season ever by a back. That was one of just four times in NFL history that a running back rushed for 1,750 yards with a 5.0 yards-per-carry average or higher and also caught 50 balls. Of those four, Tomlinson has a laughable lead in touchdowns with 28.
Tomlinson's 1,815 rushing yards that season was the 18th most ever, but his 31 total touchdowns set an NFL record (as did his 186 points scored). That record doesn't even reflect, however, that Tomlinson went 2-for-3 for 20 yards and two touchdowns as a passer that season.
The nine seasons that Tomlinson spent with the Chargers to begin his career, he averaged 1,388 rushing yards and 15 touchdowns per season, to go along with 59 receptions and 439 receiving yards. He twice led the league in rushing and three times led the league in touchdowns scored.
He signed with the Jets as a free agent in 2010 and spent two seasons in New York before walking away from the game as one of the greatest running backs to ever play, sitting second in rushing touchdowns scored (145), third in touchdowns (162, behind only Jerry Rice and Emmitt Smith), fifth in rushing yards (13,684) and fifth in attempted rushes (3,174).
The Hall of Fame doesn't like it when people say this, but Tomlinson's a future Hall of Famer, and certainly one of the all-time greats to put on a Chargers uniform.
For more NFL news, rumors and analysis, follow @EyeOnNFL on Twitter, subscribe to our RSS Feed and subscribe to our Pick-6 Podcast and NFL newsletter. You can follow Will Brinson on Twitter here: @willbrinson.
Pugh is staring down a second contract and has learned some important lessons

It's time to hook up that jersey of your favorite NFL player with some Black Friday deals

After tossing five picks in his NFL debut, Nathan Peterman is heading back to the bench
Micah Roberts has the pulse of Bill O'Brien's team and just made a strong play for 'Monday...

The Factory of Sadness is closing in on the worst three-year run in NFL history

Mike Tierney has owned NFL totals and has a strong pick for the Thanksgiving Day NFL game