According to a lawsuit filed by a sports collector Wednesday, the Giants and quarterback Eli Manning created fake "game-worn" football memorabilia in order to pass it off as real and sell it, writes the New York Post.
The allegations, which are part of a lawsuit filed by Eric Inselberg in Bergen County (NJ) Superior Court, include charges of civil racketeering, breach of contract, malicious prosecution and trade libel, and claim that Manning participated because he wanted to keep certain items for his personal collection.
One of the alleged fake game-worn pieces is a helmet that supposedly was worn during the Giants' victory against the Patriots in Super Bowl XLII that's currently housed in the Pro Football Hall of Fame in Canton, Ohio.
But that reportedly is just "one of dozens of fake items the football superstar and his Giants cohorts have created to fool fans and make money from collectors over the years," writes the Post.
Inselberg actually was indicted three years ago for memorabilia fraud after he was accused of selling fake game-worn jerseys. But those charges were dropped by federal prosecutors in 2013 after his defense team told a Rockford, Ill., court that Giants employees had lied to the grand jury in order to cover up this alleged doctoring of jerseys so they would appear to have been used.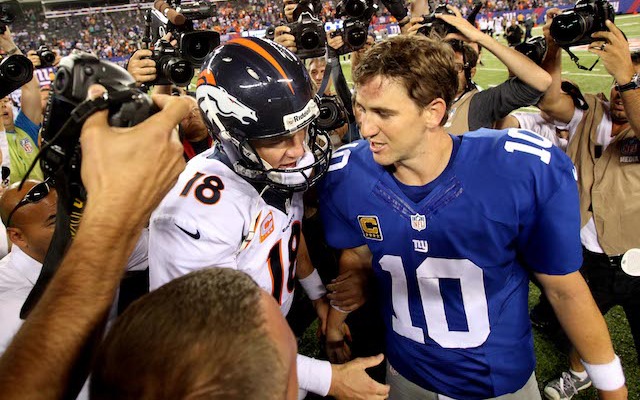 Now Inselberg is fighting back through the courts and alleging that Giants locker room manager Ed Wagner Jr. and equipment managers Joe (the 2011 equipment manager of the year) and Ed Skiba were told by team officials to lie to federal investigators and the grand jury about their role in providing Inselberg with the alleged fake memorabilia.
More from the Post:
Among the many scathing claims that could tarnish Eli Manning's squeaky-clean image is an alleged 2005 incident in which he allegedly asked Joe Skiba for an old, beat-up game helmet — and then took the headgear, signed it, and put it on the market, "falsely claiming that it was a helmet used during his 2004 rookie season."

In 2008, the suit alleges, Joe Skiba took a different helmet and doctored it to appear as if Manning had worn it in that year's Super Bowl. The fake headgear was ordered by a Giants vice president after he learned the real headgear had been sold -- to Inselberg -- and was later given to the Hall of Fame, the suit claims ...

Included in the lawsuit is a 2008 e-mail exchange between Inselberg and Joe Skiba, in which Skiba appears to acknowledge he created fake game-worn gear at Manning's request.

"Hey Joe, my buddy was offered an eli game used helmet and jersey. Are these the bs ones eli asked you to make up because he didnt want to give up the real stuff?" Inselberg writes in the exchange.

Skiba -- replying from account "jskiba@giants.nfl.net" -- writes, "BS ones, you are correct…" 

Via Eli, Giants scammed fans with bogus 'game-worn' gear: suit
Manning had an exclusive deal with Steiner Sports in order to sell his memorabilia, and Steiner apparently believed the pieces were legitimate.
But buyers started to complain that the markings on the gear didn't match up with the images from the games. The lawsuit states that Manning vouched for their legitimacy and Steiner continued to sell them.
On Thursday afternoon, Manning released a statement (via the NY Daily News): "The Giants told me this suit is completely without merit, and I have no reason to believe otherwise. The Giants are going to fight it, and so will I."
According to the Post, the lawsuit "names Manning, the Giants, Inc., CEO John Mara, team lawyer William Heller, CFO Christine Procops, Wagner, the Skiba brothers and dry cleaner [Barry] Barone as defendants.
Broncos quarterback Peyton Manning, Eli's older brother, was asked about the lawsuit Thursday morning at his press availability. Manning said he had no comment and then chuckled.
Follow Josh Katzowitz on Google+