Lawyer: Chris Kluwe plans to file lawsuit against Vikings
Chris Kluwe plans on suing the Vikings if the team doesn't publicly release a report following an investigation into allegations Kluwe made against special teams coordinator Mike Priefer.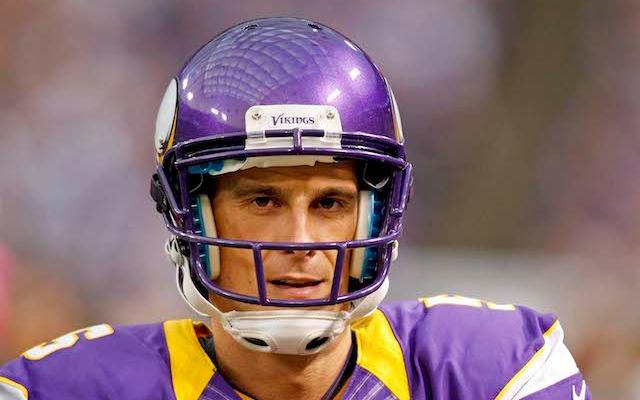 More NFL: Photos |   Videos & GIFs |  Stories | Training Camps | Johnny Manziel watch 
Back in January, former Vikings punter Chris Kluwe wrote a scathing article alleging that special teams coordinator Mike Priefer was a bigot who discriminated against people for their sexual orientation. 
Kluwe alleged that Priefer told him on multiple occasions that he 'would wind up burning in hell with the gays' because of Kluwe's vocal support for marriage equality.
Shortly after Kluwe's allegations were made, the Vikings promised to conduct a thorough investigation of everything Kluwe alleged.
"It is extremely important for the Vikings organization to react immediately and comprehensively with an independent review of these allegations," team owner Mark Wilf said in a statement on Jan. 3.
It's now been over six months since Wilf promised the team would investigate the situation and the Vikings still have yet to produce a report, setting the stage for a media conference on Tuesday where Kluwe's attorney, Clayton Halunen, said his client plans to sue the team. 
"At this point, we have no choice but to file a lawsuit against the Vikings," Halunen said. "In that lawsuit, the very first thing we will get in the course of discovery will be the investigation report, and to the extent we're able, we will make that public."
However, Halunen did also add that Kluwe won't file a lawsuit if the Vikings release the report, "We would like to resolve this out of court if we can," Halunen said. 
Halunen has been skeptical of the Vikings investigation almost since it started. Back in February, he referred to it as a 'charade.'
On Tuesday, Halunen said that he had been close to a settlement with the team that would have involved the Vikings giving Kluwe $1 million, which in turn would be donated to charities that support gay, lesbian, bisexual and transgender causes.
For his part, Kluwe's worried the Vikings won't end up releasing the report, a report that could make the team look bad. 
"The Vikings said for seven months they were going to make this public, which I think is important," Kluwe said. "Sweeping it under the rug and keeping the report private isn't right."
One of the independent investigators in the case is former US Department of Justice trial attorney Chris Madel, and his office released a statement on Tuesday saying that a meeting is planned with Halnunen for July 17. 
The two sides originally met on July 14 where Halunen apparently got the impression that the report wouldn't be released publicly. 
At no time during the July 14 meeting did Madel, Magnuson, or Robbins tell Halunen that the Vikings 'would not provide a copy of the report to either Kluwe or the public' as Halunen's news release of this morning states. At the meeting, Halunen agreed to meet with Vikings representatives on Thursday, and that meeting is still scheduled. It is anticipated that issues relating to the investigation will be discussed at that meeting.
The Vikings also released a statement on Tuesday saying they've been truthful throughout the process. 
The Vikings have never made or broken promises as Kluwe and his attorney Clayton Halunen have claimed he Vikings will have further comment when the investigation is entirely complete and the team has made determinations on next steps.
The allegations against Priefer and the Vikings stem from a Jan. 2 article that Kluwe wrote for Deadspin titled, "I Was An NFL Player Until I Was Fired By Two Cowards And A Bigot" with the bigot in Kluwe's article being Priefer. 
Dak Prescott was efficient and explosive and DeMarcus Lawrence was dominant in the Cowboys...

The Dallas receiver threw up the X after his score, and he certainly deserved it

The singer sent a message with a verse of scripture on Monday night
The Cowboys owner joined in a demonstration with the Cowboys players before Monday night's...

Look for Ezekiel Elliott and Dak Prescott to rebound after a rough outing in Denver

Quarterback Russell Wilson was one of the chief proponents for the Seahawks staying in the...