LeBron James tweets support to Seahawks CB Richard Sherman
LeBron James has over 11-million Twitter followers and he let them know on Thursday that he's supporting Seahawks cornerback Richard Sherman.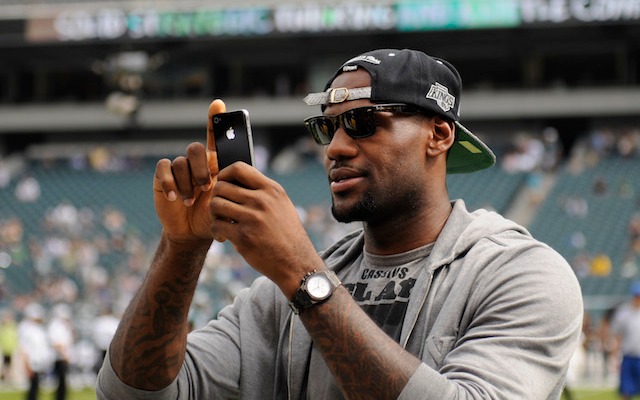 When the Dallas Cowboys didn't make the playoffs, LeBron James jumped on the 49ers bandwagon. With the 49ers now out, it looks like LeBron only has one NFL interest: Supporting Richard Sherman.
LeBron took to Twitter on Thursday to show support for the Seahawks cornerback.
I don't know one "thug" that graduated from Stanford and also working on their Masters! Dont judge a book by its cover

— LeBron James (@KingJames) January 23, 2014
Following Sherman's nationally televised postgame rant after the NFC Championship, many people took to social media to call Sherman a 'thug,' something he didn't appreciate.
"The reason it bothers me is because it seems like it's an accepted way of calling somebody the N-word now," Sherman said. "It's like everybody else said the N-word and then they say 'thug' and that's fine. It kind of takes me aback and it's kind of disappointing because they know."
LeBron also wished Sherman good luck in the Super Bowl. James will actually be in New York the weekend of the Super Bowl because his Miami Heat play at Madison Square Garden on Feb. 1. 
Keep going ham on the field @RSherman_25! Best of luck in the SuperBowl dude.

— LeBron James (@KingJames) January 23, 2014
LeBron wasn't the only person to send Sherman a complimentary tweet this week. Saints coach Sean Payton also tweeted to Sherman, which could probably be taken as Payton supporting Sherman because the Saints coach rarely takes the time to tweet to anyone. Payton has only tweeted seven times in the month of January and has never sent a tweet out to an opposing player.
@RSherman_25 Congrats on a great post season run! You are a special player

— Sean Payton (@SeanPayton) January 23, 2014
@SeanPayton Thank you very much Coach. You are a Heck of a Coach!

— Richard Sherman (@RSherman_25) January 23, 2014
The NFC is going to be a blast to watch down the stretch

Here are the Week 14 grades for every team that played Sunday

Someone apparently threw a drink at Jefferson as he left the field and he was not happy about...
All of the best highlights from Week 14 are right here

Wentz suffered a knee injury while diving for the end zone

Lewis among several coaches on hot seat, Cam's amazing run, and more from Week 14 in the N...