Legendary Raiders, Alabama QB Ken Stabler dies at 69
Legendary Raiders and Crimson Tide quarterback Kenny Stabler died at the age of 69 from colon cancer on Wednesday.
Legendary Raiders quarterback Ken Stabler died at the age of 69 on Wednesday night due to complications with colon cancer, his former team and family confirmed. 
Stabler, known as "The Snake," played 10 years with the Raiders, two years with the Oilers and three years with the Saints, making the Pro Bowl four times.
During his seven seasons as the primary starter for Oakland, Stabler completed over 60 percent of his passes -- an unheard of number during the 1970s -- and led the league in touchdown passes twice. 
"The Raiders are deeply saddened by the passing of the great Ken Stabler," Oakland owner Mark Davis said. "He was a cherished member of the Raider family and personified what it means to be a Raider. He wore the Silver and Black with Pride and Poise and will continue to live in the hearts of Raider fans everywhere. Our sincerest thoughts and prayers go out to Kenny's family."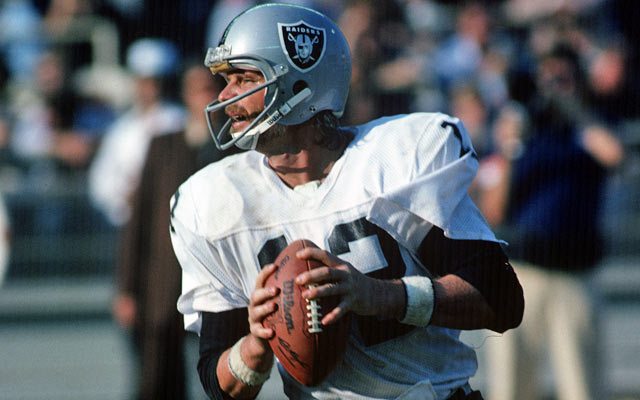 He was named the NFL MVP in 1974 and led the Raiders to a title in Super Bowl XI. He, perhaps somewhat surprisingly, remains absent from the Pro Football Hall of Fame. 
His former coach John Madden described him as a "perfect Raider."
"I was head coach of the Raiders the entire time Kenny was there and he led us to a whole bunch of victories including one in Super Bowl XI," Madden said in a statement. "I've often said, If I had one drive to win a game to this day, and I had a quarterback to pick, I would pick Kenny. Snake was a lot cooler than I was. He was a perfect quarterback and a perfect Raider. When you think about the Raiders you think about Ken Stabler. Kenny loved life. It is a sad day for all Raiders."
From the statement released by the Stabler family:
"He was a kind generous and unselfish man, never turning down an autograph request or an opportunity to help someone in need. A great quarterback, he was an even greater father to his three girls and grandfather to his two 'grand snakes.' "
Stabler left the Raiders as their all-time leader in passing yards (19,078), touchdowns (150) and finished just shy of 60 percent completions (59.9), later broken by Rich Gannon, a Raiders MVP in his own right. 
So sorry to hear about the passing of a true Raider legend Ken Stabler, the original #12. It was a pleasure to know him and wear his number!

— Rich Gannon (@RichGannon12) July 9, 2015
"The Snake" garnered fame as a slippery weapon in the backfield with his college performance at Alabama under Bear Bryant, including a national championship with the Crimson Tide and the "Run in the Mud" against Auburn.
Alabama athletic director Bill Battle had this to say about The Snake: 
"I am very sad to hear of the death of Ken Stabler. While there have been many outstanding players in our great football history at Alabama, I think it's safe to say few — if any — connected with our fans in the way that Kenny did," Alabama AD Bill Battle said in a statement. "He's one of the few quarterbacks to win a national title in college and a Super Bowl in the pros in a career that ranks among the best of anyone to play the game. He was an Alabama man through and through."
Current Tide coach Nick Saban offered some high praise for him as well. "I have had the chance to be around some of the best to ever play college and pro football, and Kenny may have been one of the greatest competitors to ever play the game," he said.
Stabler registered 19 career fourth-quarter comebacks and 26 game-winning drives, earning a reputation as a comeback artist. His bombastic personality didn't hurt matters either.
"He passed peacefully surrounded by the people he loved most, including his three daughters and longtime partner, as some of his favorite songs played in the background," Stabler's family said. "Such as Lynyrd Skynyrd's 'Sweet Home Alabama' and Van Morrison's 'Leaves Falling Down.'" 
Stabler is survived by his three daughters Kendra, Alexa and Marissa.
Here's one final shot of the elusive QB doing what he did best in the 1974 playoffs: 
How to remember Kenny Stabler. RIP. #Raiders pic.twitter.com/8HIBbV3kzc

— Mark Kriegel (@MarkKriegel) July 9, 2015
Here's an up-to-date look at the 2018 Pro Bowl roster

New England is 3-0 wearing white in Super Bowls under Bill Belichick

Bettors are favoring the Eagles to keep Super Bowl LII close, but the Patriots remain clear...
No one wants to give the Eagles any respect

The three-time Grammy winner will sing before Super Bowl LII on Feb. 4

Here's a look at the NFL's entire postseason schedule for 2018