Let's see how NFL Twitter reacted to the Josh Gordon suspension
Josh Gordon is banned for one year, which led to some of these reactions on Twitter.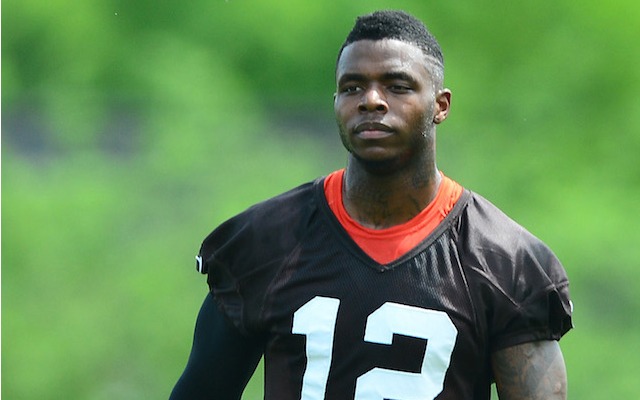 It took 23 days, but the NFL finally dropped the hammer on Browns wideout Josh Gordon, suspending him for one calendar year for his violation of the league's substance abuse policy.
People on Twitter had this to say about the seemingly injust justice.
First, let's get some legalese out of the way: 
Translation to Josh Gordon's disappointment about "discretion" of NFL office: "They didn't believe my defense."

— Andrew Brandt (@adbrandt) August 27, 2014
And we're off, and of course it makes sense to think of this in light of the two-game suspension for Ravens RB Ray Rice. 
How sad that Josh Gordon would be in better shape with the NFL if he had knocked out a woman instead.

— Bart Hubbuch (@HubbuchNYP) August 27, 2014
Ray Rice wasn't the topic. I'm on record that Rice's suspension was too lenient. Josh Gordon's penalties are COLLECTIVELY BARGAINED.

— Jemele Hill (@jemelehill) August 27, 2014
And how it ties into certain domestic causes. 
Josh Gordon suspended a year for second-hand smoke of a non-performance-enhancing drug being decriminalized in America. Great job, NFL.

— Matt Ufford (@mattufford) August 27, 2014
And what was up with the NFL taking so long with all this suspension nonsense? 
23 days to keep suspension the same as it was supposed to be? Should've taken 23 seconds

— Ross Tucker (@RossTuckerNFL) August 27, 2014
Guess how old Josh Gordon is? He's 23 years old! 23 seconds, 23 days, 23 years ... LeBron is wearing No. 23 in Cleveland now. Oh. My. Gawsh. 
Let's talk about what really matters, though, and that's what he meant to the team on the field. 
In 14 games last season, Josh Gordon led the NFL with 1,646 Rec yds and 117.6 yards per game. He'll miss one year. pic.twitter.com/m7247N7JfS

— SportsCenter (@SportsCenter) August 27, 2014
Won't somebody think of Johnny Manziel?! Here's what we're not thinking about: sympathy. 
I'd have a lot more sympathy for Josh Gordon if he hadn't gotten a DUI while in the middle of his appeal.

— Michael David Smith (@MichaelDavSmith) August 27, 2014
hats of to commisionrer Roger Goodell for getting this one rite. Josh Gordon needs to worry more about suiting up and less about shooting up

— PFTCommenter (@PFTCommenter) August 27, 2014
But we can be sad. Right, former Browns exec Joe Banner?
Wow, that's just plain sad.

— Joe Banner (@JoeBanner13) August 27, 2014
Now, Joe, the NFL totally did the right thing, right, Trev? 
I think the NFL got this one right I have no sympathy for morons like Josh Gordon

— Trevor Lininger (@TLKU1993) August 27, 2014
In conclusion: just make everything legal, please ...
PS: the same league that just suspended a guy for weed has no problem (maybe illegally) pumping players full of painkillers like Toradol.

— Travis Waldron (@Travis_Waldron) August 27, 2014
.... and we'll all just play lots of video games. 
I like Madden bc Josh Gordon can't smoke weed and get suspended on there.

— michael mcendree (@m_mcendree) August 27, 2014
The Giants' season is going down the tubes and it's all because of the Pythagorean theorem...

Haynesworth went on a Twitter rant about ex-Lady Vols player Brittany Jackson, the mother of...

The Patriots coach sees intangible similarities between Watt and Lawrence Taylor
The Eagles are rightfully favored, but the Giants' defense could still pose some problems

Michael Bennett, Malcolm Jenkins, Torrey Smith, and Anquan Boldin are asking for the NFL's...

Professional bettors are all over the Broncos against the Bills this week