Lions C Dominic Raiola accused of insulting Wisconsin marching band
Lions center Dominic Raiola is being accused of yelling inappropriate insults at the University of Wisconsin marching band before Sunday's game in Green Bay.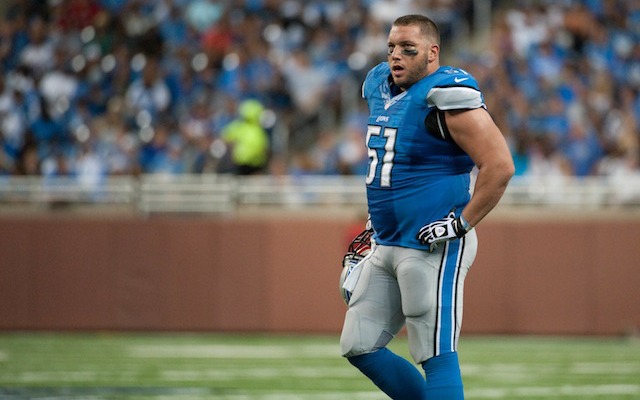 It's not uncommon for NFL players to trash-talk other NFL players before or during a game. What is uncommon is when an NFL player trash-talks a college marching band by yelling homophobic slurs at them and calling them fat during pregame warmups. 
That's reportedly what Lions center Dominic Raiola did to the University of Wisconsin marching band on Sunday in Green Bay before the Lions' 22-9 loss to the Packers. 
The Lions released a statement regarding the Raiola situation on Monday.
"We are aware of the reports involving Dominic Raiola and the University of Wisconsin Marching Band," the statement said. "Those reports are extremely inconsistent with the standard of behavior we expect from our players and from every member of our organization. We currently are gathering more information and will respond further when appropriate."
According to several Wisconsin band members, Raiola called them "fat mother[expletive]" and told them they "suck." Raiola is also accused of using a derogatory word to refer to a female member of the band. You can read all the accusations here.
Another band member calls Raiola "literally the worst person I have ever had the fortune to encounter" and alleges that Raiola questioned that band member's sexuality. 
Things got so bad that Lions safety Louis Delmas allegedly apologized for Raiola's behavior. 
As the Lions said in the statement above, they are currently gathering more information about the incident. 
Coach Jim Schwartz said on Monday that he didn't hear Raiola make any of the above remarks, "I didn't hear that personally on the field. No other coaches did," Schwartz said. "I'd be very disappointed if that were the case."
Raiola has been fined before due to his behavior: in 2008 Raiola was fined $7,500 for flipping the middle finger to fans at Ford Field, according to the Detroit Free Press. In 2010, Raiola was fined $15,000 after a verbal altercation with a fan in Miami. 
After an injury to Trevor Siemian, Brock Osweiler entered the game and helped the Broncos to...

The 32-year-old running back is done for the year

Brandon Williams was involved in a scary situation in the first half against Denver
The Broncos are turning back to Osweiler after an injury to Siemian

The Cowboys legend admits he's not on 'great' terms with the Cowboys suspended running bac...

Here's the latest information on injured Steelers linebacker Ryan Shazier