Lions coach Jim Schwartz: Tests on Reggie Bush's knee 'encouraging'
During his press conference on Monday, Lions coach Jim Schwartz called tests on Reggie Bush's knee 'encouraging.'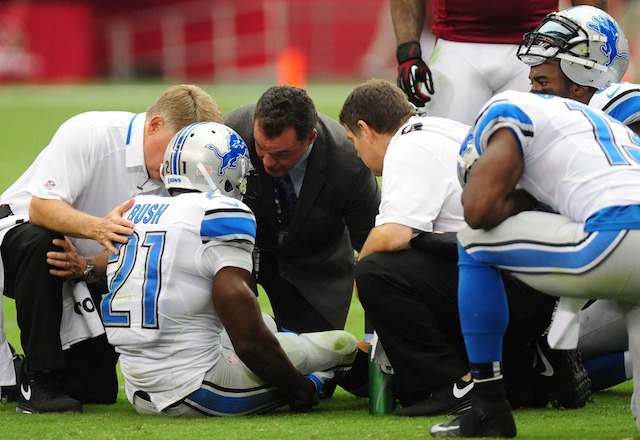 Reggie Bush has only played in two regular-season games with the Detroit Lions, but he has already taken a beating. In Week 1, Bush dislocated his thumb and injured his groin in Detroit's 34-24 win over Minnesota. 
In Week 2, the injuries continued to pile up as Bush took a helmet to the knee in the second quarter against Arizona. The helmet shot forced Bush to miss most of the second half. However, the knee injury isn't a long-term injury, coach Jim Schwartz said on Monday.
"The tests today were encouraging," Schwartz said. "He's going to be sore but he doesn't have anything that is going to be long term."
However, Schwartz was quick to note that "encouraging" test results don't necessarily mean that Bush will play on Sunday at Washington.
"It's too hard to speculate on injuries," Schwartz said. "That's why I usually don't."
Bush seemed slightly more optimistic about his prognosis. The Lions running back sent out a tweet on Monday afternoon with four thumbs up. If two thumbs up is good, then four thumbs must be great, right? 
One thing is for sure: The Lions offense absolutely needs Bush in the lineup. With Bush sitting out most of the second half, Detroit managed zero offensive points on Sunday in the team's 25-21 loss to Arizona.
One of the biggest penalties in Thursday's game was a controversial flag that went against...

If Ezekiel Elliott gets suspended, it likely won't come until Week 5 at the earliest

The NFL is apparently concerned that the Chargers might not be viable in Los Angeles
Everything you need to know for Week 3 of the 2017 NFL season is here

You can find every official injury designation for each NFL team shortly after its Friday report...

The Bengals are the only NFL team Aaron Rodgers has played against without earning a win