Lions, Cowboys top list of NFL teams with most expensive beer
A beer in Detroit isn't cheap. According to a recent report, Lions fans pay an average of 67 cents per ounce for their beer. That's 14 cents more ounce than the second most expensive NFL beer in Dallas.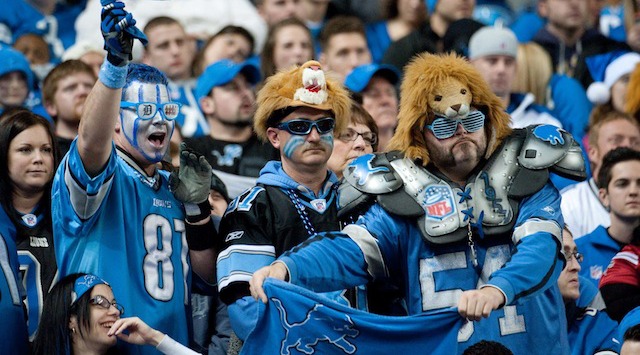 Maybe beer prices at Ford Field are why the city of Detroit filed for bankruptcy. According to research by TeamMarketing.com, the Detroit Lions have the most expensive beer prices in the NFL. On average, beer at Ford Field costs 67 cents per ounce, 14 cents more than the second most expensive beer in Dallas, which costs 53 cents per ounce. 
LeBron James and Hulk Hogan probably left the Cowboys game on Sunday when they saw those beer prices.  
NFL team beer prices by the ounce. #tmrbeer pic.twitter.com/zZr4rWafnE

— teammarketingreport (@teammktgreport) September 11, 2013
Compared to Detroit, the Carolina Panthers basically have a two-for-one special every game. A beer at Bank of America Stadium in Charlotte averages a league-low 27 cents per ounce, meaning that two ounces of beer at a Panthers game is cheaper than one ounce of beer at a Lions game.
Another surprise? A beer in Oakland (49 cents per ounce) costs more than a beer in San Francisco (45 cents per ounce). Both cities are above the league average of 44 cents per ounce. 
If you're trying to save money on beer, you should avoid games at Heinz Field in Pittsburgh and CenturyLink Field in Seattle. Both the Seahawks and Steelers charge an average of 50 cents per ounce, the two teams join Detroit and Dallas as the only four NFL cities that to charge 50 cents or more per ounce. 
Here's the complete list: 
Detroit: 67 cents per ounce
Dallas: 53 cents
Pittsburgh: 50 cents
Seattle: 50 cents
Oakland: 49 cents
Green Bay: 47 cents
Washington: 45 cents
St. Louis: 45 cents
Buffalo: 45 cents
San Francisco: 45 cents
NFL average: 44 cents
Philadelphia: 44 cents
Indianapolis: 44 cents
Atlanta: 44 cents
Jacksonville: 44 cents
Kansas City: 44 cents
Chicago: 43 cents
Baltimore: 43 cents
Denver: 42 cents
NY Giants: 42 cents
NY Jets: 42 cents
Houston: 42 cents
San Diego: 42 cents
Tennessee: 42 cents
Cincinnati: 42 cents
Cleveland: 42 cents
Minnesota: 39 cents
New England: 38 cents
Arizona: 38 cents 
Tampa Bay: 36 cents
New Orleans: 35 cents
Miami: 35 cents
Carolina: 27 cents
As expected, the internet had jokes about the Chick-fil-A at Mercedes-Benz being closed on...

Harrison is the franchise's all-time leading sacker, but J.J. Watt's brother will get the starting...

More than 17 percent of fans say they would never consider dating a Pats fan
Brady said that his lack of speed is why he fell so far in the draft in the first place

If Thomas is right, that means it's bad news for DeShone Kizer's chances of starting early

The NFLPA denied the accusation and fired right back at the league