Lions-Falcons 2014 game in London will kick off at 9:30 a.m. ET
Next season's game in London between Atlanta and Detroit will kick off at 9:30 a.m. ET, marking the earliest a game has ever been televised in America.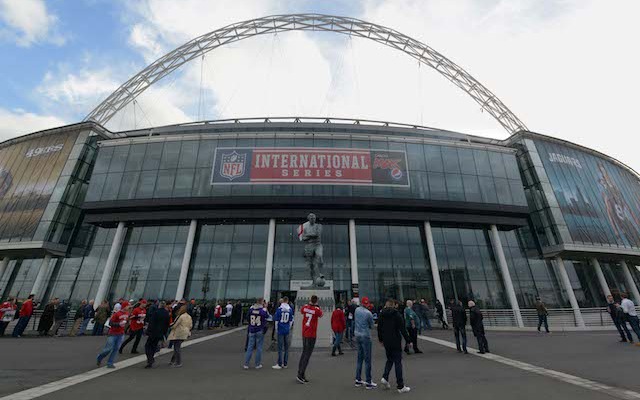 Say hello to Sunday morning football. The NFL announced on Wednesday that the Falcons and Lions will kick off at 9:30 a.m. ET next season when the two teams play in London. Atlanta will be the home team for the Week 8 game being played on Oct. 26. 
Any Falcons or Lions fans on the West Coast will have to wake up extra early that day because a 9:30 a.m. kickoff in the east means a 6:30 a.m. kickoff in the Pacific time zone. The game will kick off at 1:30 London time and air on Fox. 
The Lions-Falcons game will mark the first time in NFL history that a game has kicked off at 9:30 a.m. ET. "We are excited about playing three regular-season games in the UK for the first time and debuting a new game time that we expect to be a hit with fans on both sides of the Atlantic and around the world," NFL chief marketing officer Mark Waller said. 
The first game of the London series will take place in Week 4 next season with the Raiders hosting the Dolphins on CBS. That game will kick off at 1 p.m. ET, the same time that all London games have kicked off since the international series started in 2007. 
The Raiders were involved in an NFL first earlier this season when their game against the Chargers kicked off at 11:35 p.m. ET, the latest kickoff time in NFL history. 
The third and final game of next year's international series between the Jaguars and Cowboys will also kick off at 1 p.m. ET. That Week 10 game being played on Nov. 9 will air on Fox.
Here are the picks and props you need to be a winner while watching all the football you can...

Freeney, 37, was impressive in Seattle before getting surprisingly released

The 49ers have a realistic shot at home against a Seahawks club dealing with a myriad of i...
R.J. White has his finger on the pulse of the Packers and made a strong play for 'Sunday Night...

Revis was cut by the Jets after experiencing a horrible 2016 season