Lions WR Golden Tate: Seahawks final offer was 'laughable'
Former Seahawks wide receiver Golden Tate wasn't amused by the final contract offer that Seattle made him before free agency began.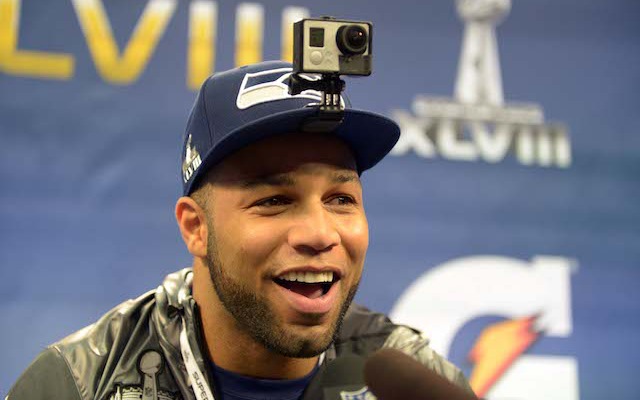 More NFL offseason: Mock Drafts | Prospect Rankings | Pro Days | Top free agents
Before NFL free agency began on March 11, former Seahawks wide receiver Golden Tate made it clear that he wanted to stay in Seattle. Tate even offered to take a discount at one point if it meant staying with the Seahawks.
Apparently though, Tate's definition of discount is different from Seattle's definition. Before signing with Detroit last week, the Seahawks made Tate a final contract offer, an offer that was so low, Tate called it 'laughable' on Tuesday. 
"I didn't mean a 40 percent discount," Tate told KIRO-AM. "I'm going to earn in one year at Detroit what Seattle was going to pay me for two years. Seattle offered numbers that were laughable. I thought, 'I've given you everything and this is what you give me?'"
It's hard to pinpoint exactly what the Seahawks offer was, but Tate will be making $13.25 in guaranteed money with the Lions as part of the five-year, $35 million deal he signed on March 12. Tate's deal includes an $8 million signing bonus, so technically, he's making $9.5 million in his first year with Detroit when you include his $1.5 million 2014 base salary. 
So it sounds like the Seahawks offer was for less than $9.5 million over the first two years. Whatever the offer was though, it was too low for Tate. 
"Considering I was there for four years, and started two of those years. I missed one game in those two years," Tate said. "I did everything right and wasn't a trouble maker. And what they offered, I was like, 'Is this serious?' The numbers [the Seahawks] shot at me were not first-priority, like they said they wanted to do for me to stay in Seattle."
According to Tate, the Seahawks offer was so low, he had no choice but to leave. "It's a business and I get it, but I felt I was undervalued a little bit considering all I had done," Tate said. "I'm going to miss the city of Seattle, but I really had no choice. I did my very best to stay in Seattle. I leave with my head high."
Despite the lowball offer, Tate didn't leave Seattle on bad terms with his former team, "[Coach] Pete [Carroll] called me that night [when he signed with Detroit] and wished me good luck," Tate said. "He said, 'If you need anything ever, call me.'"
Tate might be sad that he's leaving Seattle, but he'll have a chance to put up bigger numbers with the Lions. The 25-year-old receiver will be going from a team in Seattle that had the 26th ranked passing offense in 2013 to a team in Detroit that had the third ranked passing offense last season.  
Smith is facing up to seven years in prison if convicted

Plus everything else you need to know about Week 2 of the 2017 NFL preseason

This is why being a rookie in the NFL isn't fun
The Raiders running back went Beast Mode on reporters

Elway tried his best to emphasize how complicated the situation is

The executive director NFLPA has an ugly prediction for the future of the NFL