Locker room culture under scrutiny in wake of Martin-Incognito flap
Locker rooms have long been the territory of alpha males, but in the midst of the Richie Incognito controversy, it's time to take a look at what passes for normal in the NFL.
• 13 min read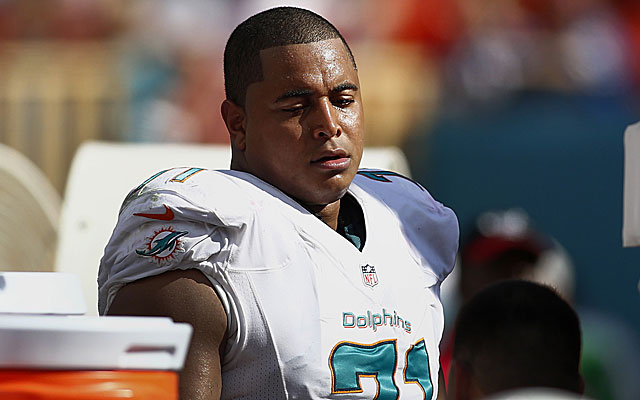 The more I think about the way the Miami Dolphins locker room reacted to the Jonathan Martin/Richie Incognito situation, the less surprising it seems. On the surface one might think their sweeping approval of Incognito, the accused, and relative disdain for Martin, the accuser, is counterintuitive, but I believe it's actually just the opposite.
Despite the varying accounts of these men, their complicated relationship and how seemingly at odds they are -- with Martin's claims of abuse or possible bullying opposite what his teammates say was the case -- perhaps there is an underlying truth that manages to account for that dichotomy. This topic is shaded deeply in gray, with very little in black and white, and facts, as they were, in short supply. Yet somehow, in the paradigm of an NFL locker room, could the perceptions of both Martin and the men he works with be grounded in versions of the truth all actually believe?
Consider what we know to be true in this case (and keep in mind, that's fairly little as the NFL's review into the allegations of workplace harassment and player misconduct has just commenced). Martin left the team last week after an incident in the cafeteria with fellow offensive linemen, sought immediate counseling, has not returned and as of now has no short-term plans to do so. The Dolphins coaches and front office made virtually no comments on the matter, or nothing of any substance until Sunday night after they had received evidence of texts and voicemails in which Incognito referred to Martin as a "half-n-----" and made threatening comments about Martin and his mother.
The team found those remarks serious enough to suspend Incognito indefinitely. Owner Stephen Ross, whose tenure at the helm has been punctuated by public failures, immediately asked the NFL to aid the team in a full review of the matter. The league promptly hired lawyer Ted Wells to serve as special counsel leading the probe. We know that there are plenty of pictures of Martin and Incognito seemingly together and having fun, and no shortage of anecdotal evidence from Dolphins teammates saying they thought the two were great friends; that Incognito was first to defend Martin on the field. And we also know that Martin was a little different, not quite of the group, and that they called him "Big Weirdo" -- meant with humor or not -- and wondered if he was really cut out for the rigors of the NFL and the Dolphins' burly offensive-line room in particular. He was a little "soft" or perhaps too sensitive in their eyes, based on the comments pouring forth from players on Wednesday.
And we know that Martin himself has said virtually nothing since leaving. He remains in counseling near his home in California with nothing coming out from his camp for much of the past week. He didn't point a finger at Incognito, he didn't run right to the media as some have suggested. He just left. Eventually, some close to him revealed he had been having problems fitting in, and that he felt like Incognito might harm him; that, in Martin's estimation, the situation had reached a point where things might go from verbal to physical.
On Saturday night, well after Martin had departed, and only after, I'm told, he resisted any attempts to open up about specific incidents that preceded his exodus, Martin relented and let his mother see and hear some of what we later learned was on his phone. After confiding in her, that information was turned over to the Dolphins on Sunday through Martin's representatives.
There are so many more questions than answers, and we might never truly know everything that went on between Martin and Incognito, especially in private exchanges with this a he-said/he-said. Add the fact that Dolphins players are clearly rallying behind Incognito, and none of us are privy to the private thoughts of either player or any intent of their words (whether meant to be humorous or ominous). Nor do we know what else may have been going on in Martin's life, personal or otherwise, that perhaps could have caused him to be in an emotional state where things that might be relatively mundane by NFL standards of indoctrination may have produced a far greater impact on him.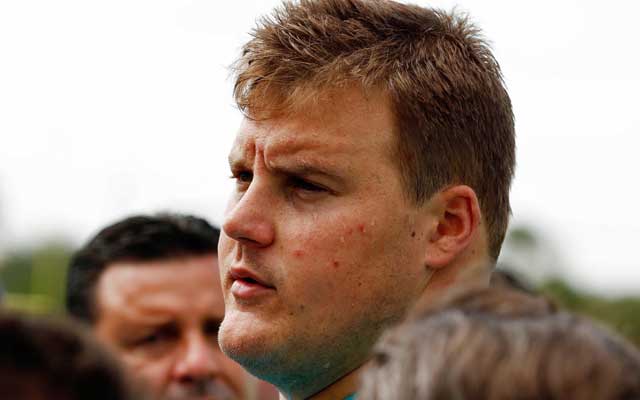 The locker room's response, however, to what quickly escalated to a national story on network newscasts and in forums well outside of sports is anything but surprising. It is, in fact, totally natural. The players being asked these questions Wednesday are in every way of that culture. They already paid their dues at the rookie dinners and carried veterans' pads and most probably never thought anything of it. They were tough enough and strong enough and many have been in other locker rooms, too, and saw similar stuff there. It's a rite of passage. It's part of the code.
And the First Testament of that code is that what happens in the locker room stays in the locker room. You handle it like men, with your fists if need be (a common reaction from NFL players young and old in response to the initial news of this case). You don't talk about it to outsiders or do anything to shed light on it and you damn straight don't desert your teammates and quit on your team. Let's be  honest, that is the connotation here underlying what we heard from Tyson Clabo, Ryan Tannehill and Brian Hartline and others who spoke up Wednesday.
And you better not do anything that might cause problems for a veteran team leader -- an alpha male among alpha males -- or force these guys, during a week in which they are trying to prepare for something of a must-win game Monday night in Tampa, to now have to defend their locker-room culture and have seemingly all of the American media trying to peel back each layer of their inter-personal dynamics. You don't put your locker room on trial.
In reality, Martin tried to do anything but, telling Incognito via text last week it was his problem, and not the team's, trying not to blame others (those texts were shared by Incognito with NFL.com). You could make the case he went to lengths to try not to break the code -- getting counseling, going home, not naming names, only eventually telling his mother of what went on over the weekend, as those close to him tried to understand the depth of the situation themselves.
Martin, intentional or not, ended up bringing on all this turmoil the moment he broke ranks and left the building. Those are major transgressions. Through the Dolphins prism, his actions were selfish and cost them the services of Incognito in the process.
So, would it surprise you that within that construct and within this setting, that these men would prefer to still have Incognito over Martin?
Even aside from the fact that in their eyes, nothing they saw or heard was too far out of bounds (even the racial comment), consider that Incognito is very much one of them -- and a vocal leader and a warrior on top of that. Of course they would rather have him playing with them this week against a desperate Bucs team, rather than this other guy. A guy who was a relative outsider, who recently lost his left tackle job and was still seeking approval; who didn't quite fit in whether it was because he spoke quietly and wouldn't always look veterans in the eye. A kid who hadn't even been in the league two years. It makes perfect sense.
And, furthermore, as far as they had all seen, it's not like Incognito was doing anything to Martin that much different than anyone else. That's just how it is with offensive linemen. It's a tough position and respect is won grudgingly and it has been that way forever in the NFL. Guys don't just go running back to their mothers, and, if they do, then that's on them, not us. They didn't belong anyway. They couldn't cut it.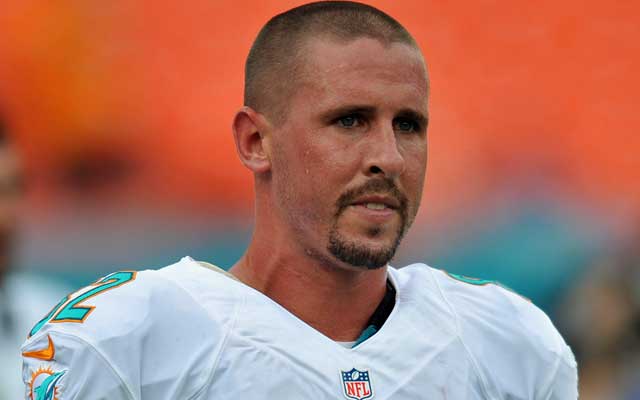 I get all of it. I do. Those Dolphins players have families to support and they do it by playing football and winning games. They're in the playoff hunt, coming off their biggest win of the season, and none of them asked for all of these distractions. The reality is their locker room may not be all that different than most, and it will be up to the NFL and its lawyer Ted Wells to decide if the coaches and front office were negligent or complicit in any of this, if in fact the men in charge were at fault and should have known more and should have done more.
And when viewed within the NFL prism, this locker-room code has for years served to toughen guys up, get them ready for battle. In that way, it works. The truth is most fans don't or won't want to really know how this sausage gets made -- the mental and physical toll it takes and the fortitude required to make it through a preseason much less years in these trenches. Only now, it can't just be looked at through an NFL lens -- we're beyond that now with this becoming a dominant story across all genres -- and the mere connotations of bullying or workplace harassment are cultural flashpoints that cut across wide swaths of society.
So how can we justify these varying accounts of Martin and Incognito? How will Ted Wells be able to get to the bottom of an issue so rooted in feelings and emotions and understand how perhaps behavior that might seem accepted as the norm in an NFL locker room might drive a young player away? Can all of this, taken in its total, make sense?
Could it be, maybe, that Martin was always trying to smile around Incognito and buddy up to him, because he felt like that might be the best way to gain approval to try to fit in more? I spoke to someone who was out with both of them in a group setting less than three weeks before he left the team, and it would have never dawned on anyone there that there might be anything unusual or intimidating going on between them. Maybe this was a way of coping. Trying to be one of the boys, cozying up to someone he feared (to say nothing of how we could possibly know now whether any such fright was justified).
So why didn't Martin tell anyone how he felt? Well, perhaps sharing Incognito's voicemail with other players, as Hartline said he did, was his way of doing so. Maybe that was a cry for help, and him laughing along with teammates a reaction to the fact that seemingly no one else found the language or context unusual.
Maybe, already being the "weirdo," he felt trapped. As reports have suggested, coaches instructed Incognito to toughen Martin up and general manager Jeff Ireland was insensitive to approaches from Martin's agents on the matter, well, then, all the more reason that he may have felt like there was no one to confide in there, and fleeing was a preferential option to staying.
Some will suggest perhaps this was all an orchestrated ruse by Martin, no doubt, an underlying subtext to some of what has been said by former Dolphin Ricky Williams and others. Perhaps they're right. Maybe Martin, seeing he was not NFL material, unsure about his will to do this for a living, saw Incognito as a scapegoat, and he saved certain texts and voicemails to eventually blame others for his own failings.
So rather than just retire, and walk away from that four-year, $4.8 million deal, Martin decided to have it both ways. He would in essence quit, or go on a long hiatus, go get counseling, and then force the Dolphins' hand to keep paying him by using workplace harassment as a means to stay on the 53-man roster. Then with word leaking that the Dolphins considered moving him to a reserve list for players dealing with mental or emotional issues -- and thus able to cut his pay -- Martin releases the long-held evidence on Incognito, and then the Dolphins, fearing a grievance or litigation over his reduced pay, relent and keep him on the active roster.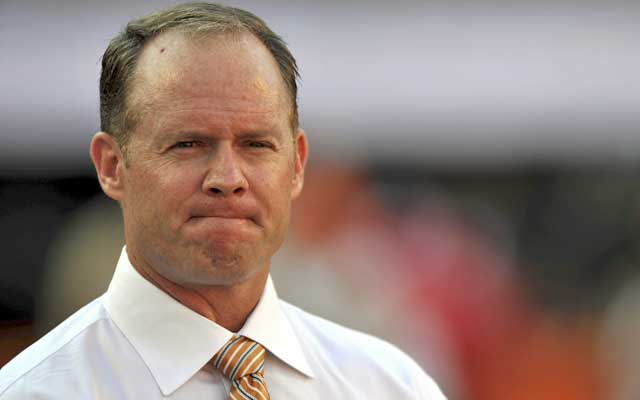 Even if you are predisposed to believing this was an orchestrated cash grab by Martin, would someone who comes from means and whose reputation has never been in question -- and someone who numerous Stanford teammates told me was as good of a teammate as they had and as stable of a person as was on their team -- really concoct all of this to cash out, bury a teammate and leave a game he has played and enjoyed all his life?
Could it all be that calculated? No one but Martin knows for sure, and we're all drawing some of our own conclusions based on what is known to this point. You have to assess the strength of that rationale for yourself.
Just the same, is Incognito a monster, a constant tormenter? Or merely an over-the-top product of his environment, lacking the social awareness to see how his antics might play to some, particularly a bi-racial, Stanford-educated, awkward rookie tackle who has two Harvard lawyers for parents? Incognito is the kind of guy everyone wants on their team but hates to play against. He's a dirty player at times, with no shortage of missteps and incidents throughout his pro and college career, but one seemingly so embraced by most teammates that even using the N-word toward players of color hardly causes a stir. And, even if his black teammates may not have minded, are we to expect that everyone, including Martin, would be comfortable walking into a locker-room environment where Incognito can party with black teammates and, meant endearingly or not, call them the n-word, as video from TMZ suggests?
Could Incognito have sincerely believed he had Martin's best interests at heart, viewing him as a wayward little brother who needed to be shown how to survive in this uber-macho world and taking him under his wing in the only way he knows how? Could he somehow have managed, through over-exuberance in that role and not actual malice, to make Martin's NFL experience infinitely more complicated? Was he unaware of whatever else Martin might be dealing with, and the timing of his brand of mentoring and Martin's inner turmoil conspired to produce a perfectly devastating emotional storm?
Could it be that simple, and yet just that complicated? Or is it much more nefarious, from one party or another? And, NFL investigation or not, will we ever truly know?
Regardless, perhaps there is some greater good to come. Who knows, maybe a few hours of Martin and Incognito in a room together with a mediator, at the appropriate time if there is one, might shed a light on this entire affair that allows other teams and players to learn and grow from it.
It may still get uglier before clarity reigns. (I'm told by people close to both players that each has evidence that would cast the other in a bad light.) But I haven't given up hope that there still might be something positive that results from this saga in the end, and that maybe Incognito, Martin and others might emerge with a better understanding of themselves and their surroundings and what should and shouldn't be tolerated even in the confines of an NFL locker room.
Savage left the game before returning after just one series

Quinton Jefferson explains why things got ugly in Jacksonville

The Eagles lose their franchise quarterback with the playoffs just weeks away
The Packers cornerback held Gordon to one catch on Sunday

Colin Kaepernick, Josh Johnson and Matt McGloin are among the bigger names available

The Rams and Titans look good nearly two full seasons after the Jared Goff trade. But who 'won'...