London calling: NFL wants UK team, and soon; Jags look like best fit
Forget the long flights, crotchety coaches and spurned fans. Jason La Canfora says the money is just too good for the NFL not to have a team in London in the next decade.
• 10 min read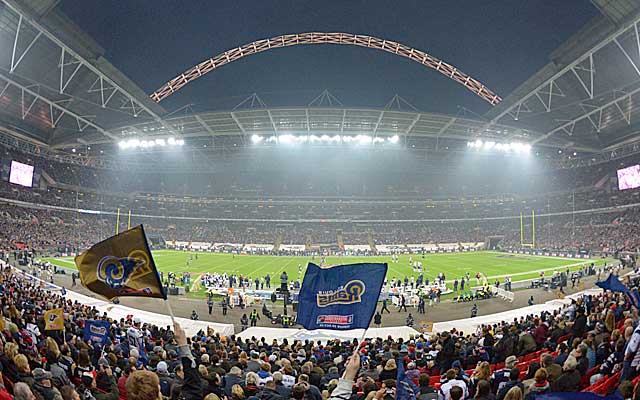 Regardless of precisely what NFL Commissioner Roger Goodell did or didn't say at a conference on Tuesday regarding playing more games in London, make no mistake: Goodell's eyes remain fixed across the Atlantic, and that's not going to change.
A few years back if you had asked me about the likelihood of an NFL franchise in London, I'd have said, sometime in my lifetime, maybe in the next 25 years. Ask me now, and I'd say we'll see football -- American football -- being played on Sundays at Wembley Stadium within the next 10 years (possibly 5 to 7), and, yes, the Jacksonville Jaguars are the team numerous well-connected NFL people have tabbed as the most likely to land there.
For the last year or so, when I have talked to NFL team executives coming out of various owner's meetings, the tone has changed regarding their impression of the league's flirtation with London. It used to be more of an "if" scenario. Now, it's more like "when" we start playing in London. Like, it's only a matter of time. It's been a major initiative at the league office, spearheaded by the commissioner, and the commitment to getting this done seems unwavering.
When Eric Grubman, an executive vice president with the league who is closely involved with the league's International Committee ("They should just call it 'The London Committee," as one club official put it. "That's really what it is.") addresses owners at this meeting, there is a certainty in his voice, folks have told me, a sense that this will happen.
A franchise in London might not quite be impending, but everything the league has done in recent years -- including adding more regular-season games at Wembley and making the Jags annual tenants there for at least one match, er, I mean, game a year -- signals that this is no passing fancy.
After a league meeting last October, during which Grubman provided a more detailed update on the status of the NFL in London, this is what one team executive present in the meeting told me:
"Grubman pretty much flat-out said, 'We want to have a team in London -- our goal is to get a team there and make this happen,'" said one source who was present for the meeting. "It didn't sound like an 'if,' we took it as a 'when.' "
Now, you might ask, why wasn't Goodell himself making these statements? Well, that's not how it works. He's not running committee meetings and holding court on an issue like that. But make no mistake, Grubman isn't talking out of turn. The commissioner is fully behind this. If ticket sales remain robust and the thirst for more NFL games is there as the league adds multiple games per season -- and there is every sense within the league office that will remain the case -- then the next step is to get a franchise there, and ample time and resources are already being spent working through the various logistical issues that would have to be overcome.
Goodell's buzzword is innovation, and he is always pushing others to explore new horizons. He didn't pocket $30 million not to keep making the owners boatloads of money, and with the TV contracts in the United States secure beyond 2020, the league working on improving the in-game experience, and, short of eventually getting two franchises to Los Angeles (preferably in the Chavez Ravine area), there is only so much more that can be accomplished domestically.
The Buffalo Bills are already becoming more and more of a regional team, playing games in Toronto, and if the Rogers Communications folks (a global heavyweight based in Toronto) acquire the franchise whenever Ralph Wilson passes, then trust me, the Bills will be very, very much a regional franchise, playing plenty of games in Canada. Mexico City, in theory, makes sense, but concerns about security likely preclude it coming to fruition anytime soon.
That leaves London.
League officials look at the popularity of sports like soccer worldwide -- the kind of marketing and merchandizing and television rights deals a league like the English Premier League nets in Asia and the Far East -- and see tremendous room for growth. Teams like Chelsea and Manchester United can play exhibition games in Thailand and India or South Africa and pocket big bucks, while growing their brands. They can come to the U.S. for glorified practice sessions and sell tickets for $100 and more each and sell out 80,000-seat NFL stadiums.
So, then, eventually, why can't NFL teams do the same?
And, with the television product pretty much at a saturation point in America (we have games three nights a week), the best way to expand the demand, scope, and rights fees for NFL football abroad would be by having a franchise in Europe playing meaningful games 16 weeks a year. That's how you build fan identity and loyalty and get people digging deep in their pockets to be a true part of the NFL experience.
At some point, the NFL might lose it's chokehold on the wallets of the American sporting consumer (a far off thought, for sure, but look at the dips boxing and baseball have taken at various times), but it has only just begun to exploit the possible revenue streams on a global level. And, I'm sorry, good people of Jacksonville, Fla., but moving the Jags would make total fiscal sense.
(And this isn't about expansion. The owners are very comfortable with 32 teams, or damn close to it. Remember, this is a revenue-sharing model and they only want that a pie cut up into so many pieces. If you can flip, say, a Jacksonville into a London and a San Diego or St. Louis or Oakland into LA, well, that's much more appealing and will grow that overall pie exponentially for all, without adding any more mouths to feed at the table.)
Jacksonville is, at best, the third-best location for an NFL team within its own state. It lacks the local infrastructure, corporate support, capital and stadium to be competitive on a local scale in many ways, much less a global one. You can't even begin to compare it to London in any manner, much less its ability to foster an economically robust pro sports franchise. London could draw on a good chunk of Western Europe within a short train or plane ride, in terms of a regional fan base, and is a worldwide center of banking, culture, construction, you name it.
Issues of travel aside, you'd be hard-pressed to come up with five cities in the world that make better sense for an NFL team than London when you look at this the way an owner would. It has everything in place, and is oozing with potential as an untapped market.
Just imagine what the local TV rights to broadcast preseason games would be like, compared to the relative pittance it would bring in Jacksonville. Think about what you could charge for tickets (and you know these owners would love to get that Pound Sterling rolling in, a currency that far outpaces our dollar). No more putting a tarp over the upper deck. No more competing with college teams for local spending and attendance.
Sure, you're competing with soccer, but we're talking 10 dates a year -- including preseason -- at most, and somehow I think with a population that large and an economy that strong and with the interest in the NFL already multiplying over the years. London could find a way to support a team. Don't even get me started on what the sponsorship deals and licensing agreements could look like, compared to what the Jags bring in, and the network of European-based companies that would suddenly want a bigger stake in the NFL.
Being the first league with a franchise in another country would be a legacy-cementer for Goodell. It's the ultimate innovation, and when guys like Robert Kraft and John York opine so openly about the viability of a franchise in London, it's not an accident. It's also not exactly random that Jacksonville ended up being the team to make a multiyear commitment to play games in London, or that the team is working to increase its community outreach and presence there. The earlier the blokes in jolly' ol' Londontowne start taking to the Jags as the home side, all the better.
Assuming the Bills stay in the Southern Ontario/Western New York region, and realizing that the league office won't be letting the Raiders back into Los Angeles under current ownership, much less give them London, the list of candidates for London is pretty slim.
The Vikings got their stadium. The Chargers make too much sense for LA if they move. If the Panthers can't get the upgrades they want to their stadium, expect to hear saber rattling about LA, but London seems too extreme for Jerry Richardson. The Rams got a favorable arbitration decision regarding theirs (though if they don't get everything they want from the locals, I'd put Stan Kroenke, who already owns fabled English soccer club Arsenal, right near the top of owners to possibly go to London or LA). The Titans, maybe after Bud Adams passes? I don't see it. So that about covers possible suspects.
Don't sweat the details, like travel. Have you even looked at the 49ers' brutal travel schedule that's ahead in 2013, or glanced back at the last year's? You think a series of five-hour flights during a six-month schedule is enough of a deterrent to derail all this economic goodness? Then you haven't been paying attention. Don't give me long flights, or fatigue, or players not wanting to play abroad. The league wants to add regular-season games, has made Thursday nights a staple of the schedule and plenty of athletes in other sports go abroad -- it's beyond common in basketball, hockey and soccer, and even baseball.
The London Jaguars (sorry, but just think of the sponsorship deal with Jaguar, a most British company) will take two week swings Stateside, and the league will work out byes for many teams the week after they play at London. West Coast teams will do what the 49ers have already been doing during trips East, and to London, and hold camp for a week somewhere closer between games (Youngstown, Ohio, has become the 49ers' second home).
The London team can easily maintain a U.S. office for some football operations people, where they can conduct player workouts and tryouts in-season, perhaps even maintain a developmental squad based there (and in this day and age, the coach back in London could easily watch a Tuesday tryout in real time over a laptop).
Teams that play in London during the preseason will hold camp over there for a few weeks around the game, and I'd have the London team play only home preseason games -- which creates more dates for them and fans can watch other teams train over there between exhibition games (which grows the overall NFL brand). The Cowboys already fly halfway across the U.S. to train in the cooler climes of California during part of camp, for instance.
(Oh, what, you say that deprives the common fan here of seeing his or her team practice? Take a look at home many teams have already cut costs by moving camp to their training facility. The good 'ol days of veterans riding bikes to practice, quaint and cool as it is, is already succumbing to profits and the simpler logistics of conducting camp the same place you train. Like I said, you must not be paying attention.)
What's that you say, the quality of play will suffer? Um, yeah, again, Thursday Night Football. 'Nuff said.
The London Jags don't have any natural rivalries? Well, some would say London could prove to be plenty big enough to support two teams, and the idea of derbies -- local competing teams from the same (even small) cities is central to soccer culture already (Google "London Derby," then plug in pretty much any other European city you can think of).

So will it happen? Will an NFL team be based in London? Yes, it will.
Will the Jaguars definitely be the team to call London home? I'm not willing to say that just yet, but if I had to place a bet at Ladbrokes (Google it) I'd be putting quite a few quid on the London Jaguars, particularly if this comes together sooner rather than later.
Pick Six Newsletter
Get the day's big stories + fun stuff you love like mock drafts, picks and power rankings.
Please check the opt-in box to acknowledge that you would like to subscribe.
Thanks for signing up!
Keep an eye on your inbox for the latest sports news.
Sorry!
There was an error processing your subscription.
John Breech joins Will Brinson on the Pick Six Podcast to break down Week 1 NFL picks

Let's peek ahead at the possible headliners in the 2019 draft class of linebackers

Looking at some best bets for Week 1 of the NFL season way too far in advance
Laurent Duvernay-Tardif won't be getting the jersey of his dreams

Apparently, there was only one team that wanted Lamar Jackson to switch positions

Steve Spurrier would really like Tim Tebow to play for his team in the Alliance of American...