When you go to an NFL game, there are pretty much only two rules that every fan should follow: Don't pick a fight with anyone and DON'T TIP OVER A PORTA-POTTY IF SOMEONE'S INSIDE OF IT. 
A Broncos fan broke that second rule on Sunday and now there's almost definitely a Patriots fan out there somewhere who's scarred for life. I'm scarred for life just knowing this happened.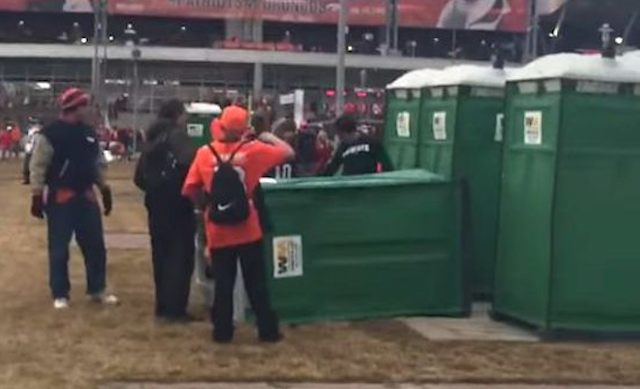 According to the video of the tipping, which was posted to YouTube, the incident went down just outside of Sports Authority Field.
Here's the description from the woman who took the video: "A Patriots fan went into the porta-potty and a Broncos fan kicked the porta-potty over," she says, describing the situation to another fan. 
If you watch the video, it's hard to tell if anyone was actually in the porta-potty. However, the woman who took the video starts to laugh uncontrollably after the porta-potty got tipped, so she definitely thinks someone is inside. Also, there are several fans surrounding the porta-potty and they look to be helping out the person inside. 
As for the Patriots fan inside, it will probably go down as the worst day of his or her life. Not only did the Patriots lose, but you know, he or she also got trapped in a tipped over porta-potty. 
There are a few words in the YouTube video that aren't safe for our family-friendly site, but you can click over to YouTube and see the video here.