The Bengals are 8-0 for the first time in franchise history, so understandably, there are a lot of excited people in Cincinnati -- and sometimes, excited people do crazy things.
Take Jeffery Gebhart for instance.
The long-time Bengals fan is so excited about the team's undefeated start that he decided to paint his house to look like a Bengals helmet. If you've ever seen a Bengals helmet, then you know that this paint job is much easier said than done. 
Gebhart did it though and recently showed off the finished product to WCPO-TV in Cincinnati.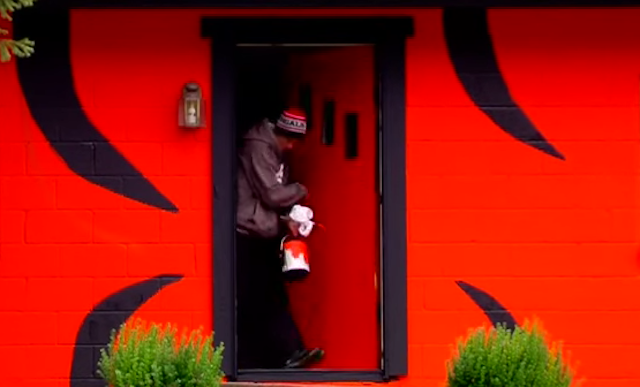 Gebhart has been following the team for almost 40 years, which is why he's so excited about the team's hot start. 
"I've been a Bengals fan since [1976]," Gebhart said. "This is by far the best team we've ever had. If it was ever going to be the year, this is the one."
The downside to painting your house orange and black is that if the Bengals lose in the first round of the playoffs for the fifth straight year, then you're stuck with an orange-and-black house.
If that happens, it actually won't be a big deal because Gebhart lives in a rural area just outside the city.
"I have no neighbors," Gebhart said. "It's peaceful, it's quiet. You can paint your house bright orange if you want and nobody gets mad at you."
For those of you wondering what his wife thinks about living in an orange-and-black house, Gebhart noted that he's divorced. He probably won't be for long though, because who wouldn't want to live in a house that looks like a Bengals helmet?