LOOK: Bills fan gets Ralph Wilson tattoo on arm
A Buffalo Bills fan got Ralph Wilson's face tattooed on his arm.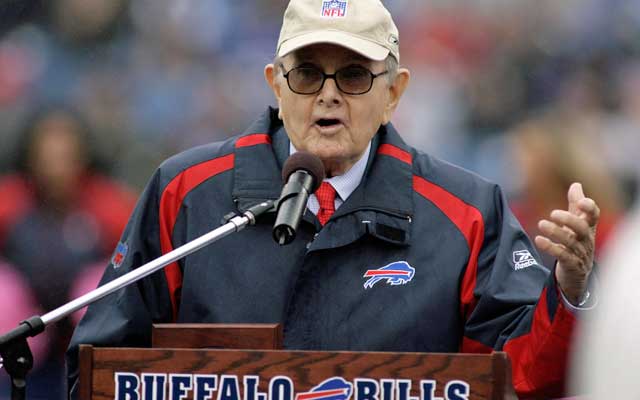 More Draft coverage: 2015 Mock Drafts | 2015 Top 100 | 2014 Draft Grades | News
The late Ralph Wilson, who died in March after living a life as the only Bills owner in franchise history, was a passionate football fan.
He appreciated how much the people of Buffalo care about their Bills. But even he might be shocked by the depth of one fan's interest in the team and it's owner.
32-year-old Bills fan Jack Meredith actually got a tattoo of Wilson:
As a fellow 32-year-old, I've got to say ... you're not married are you? Mrs. Brinson would kick me out of the house faster than you can say "laser removal surgery" if I showed up with a tattoo of a dead 95-year-old man on my arm because he brought football to our town.
But to each his own. (And look: a tattoo of Wilson is better, and far less awkward, than a tattoo of EJ Manuel or Kiko Alonso.) 
Meredith told Darren Rovell of ESPN he got the tattoo because it would be "nice to pay tribute" to Wilson.
"We wouldn't have the team without him," Meredith said. "And so I felt it would be nice to pay tribute to him."
Meredith also said he currently has a Bills logo tattooed on his other arm and plans to get a Jim Kelly tattoo some time in the near future as well. 
"Some people think I'm crazy," Meredith said. "I don't care. It's my arm."
The Patriots QB was reportedly "ripping it" in practice on Friday but had his hands in his...

Here's a look at the NFL's entire postseason schedule for 2018

Carter spent three years in Philly at the beginning of his career before becoming a star in...
CBS All Access allows viewers to stream every NFL game on CBS in their local market

Our computer model simulated the AFC and NFC title games 10,000 times with surprising resu...

The troops will be able to watch the AFC and NFC Championship games thanks to the NFL