LOOK: Bills fans still can't let go of Scott Norwood's missed kick
It's only been nearly 25 years, but Bills fans still remember Scott Norwood's wide right kick in Super Bowl XXV.
• 1 min read
More NFL offseason: NFL Mock Drafts | Prospect Rankings | Top free agents
Sometime during Super Bowl week, John Breech -- our special teams correspondent here at CBSSports.com -- and I struck up a conversation about Scott Norwood and his missed game-winning field goal at the end of Super Bowl XXV that gave the Giants a 20-19 win against the Bills.
Remember?
Norwood was subsequently flambéed for his miss, and ever since then, he has been considered one of the biggest goats in Super Bowl history.
Breech and I agreed, though. The bashing was unfair, mostly because of the length of  the attempt. It wasn't some 22-yard gimme. It was a 47-yarder, and during that 1990 season, field goal attempts between 40-49 yards were successful 62.1 percent of the time (Norwood was a little below average, making six of 10 that season). So, it was far from a sure thing.
(Just an FYI, this year's kickers made those field goals at a rate of 83 percent. Different standards back then, huh?)
ANYWAY, all of that leads me to the photo below (H/T to Bleacher Report, which procured it from reddit). Because even nearly a quarter-century leader, Norwood still can't find peace with his missed kick.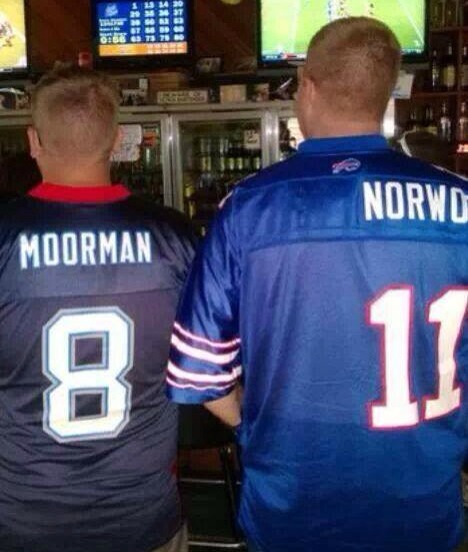 Get it, WIDE RIGHT!
It's sorta funny, huh?
Romo was at it again in Week 3, diagnosing defenses and calling out the plays before the s...

Washington's star cornerback is not a fan of the president and his incendiary rhetoric

Joe Lockhart, speaking against Trump, called Sunday 'an important day in the NFL'
Week 3 in the NFL was absolutely bonkers, and Twitter overreacted as usual

The Hall of Famer and former Bills great also thinks Trump needs to quit Twitter

Here's an early look at the lines for all NFL games being played in Week 4