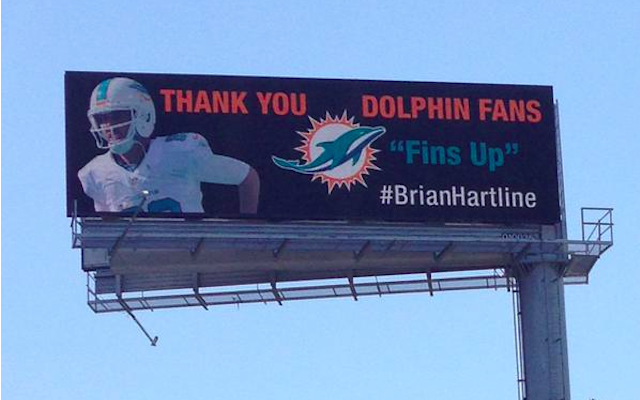 NFL players used to buy newspaper ads to thank fans, now they're renting billboards. 
Former Dolphins receiver Brian Hartline was the latest player to get in on the billboard craze this week when he bought a billboard to thank Dolphins fans for cheering him on during his time in Miami. 
So it took a little longer then expected but I wanted to thank as many Dolphins Fans as possible. So Thank You! pic.twitter.com/GWNtnEXYbZ

— Brian Hartline (@brianhartline) March 31, 2015
Hartline signed with the Browns on March 10 after spending the first six seasons of his career with the Dolphins.
Anyway, this billboard is nice, but I'd like to see Hartline buy another billboard and I'd like that one to say "Thanks for phasing me out of the offense and running me out of Miami, Bill Lazor."
Hartline's production dropped from 74 and 76 catches in 2012 and 2013 to 39 catches in 2014, a season where Lazor was in his first year as the Dolphins offensive coordinator.
As for the billboard, Hartline now joins DeMarco Murray in the billboard buying department. Murray rented out a billboard in Dallas in mid-March to thank Cowboys fans.  
Billboard in downtown Dallas. Read about it here http://t.co/Nos6tBNT6W pic.twitter.com/wG7hoflqhd

— Dallas Cowboys (@dallascowboys) March 19, 2015