LOOK: Colin Kaepernick displays brand new tattoo
Although he's taking some flak for his body art, 49ers quarterback Colin Kaepernick displayed his newest tattoo.
• 1 min read
Colin Kaepernick likes his tattoos, and even if certain people don't like his body art, we don't have a problem with it. And apparently neither do the makers of "Madden 15."
We wrote in 2013 about a new tattoo Kaepernick had inked onto himself, and on Monday, Kaepernick gave us even more visual aids to enjoy.
From his Instagram account.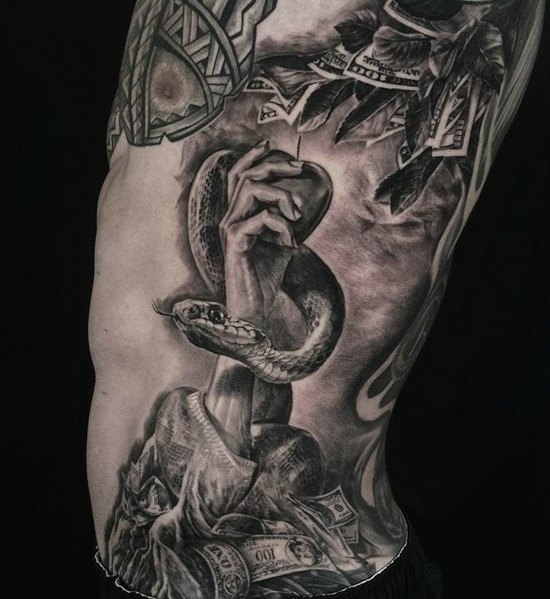 Kaepernick's description reads as follows: "Money is the root of all evil! Amazing work by@carlostorresart #WhatWouldYouDoForSomePaper#WhatAreYouReallyAbout"
(I'll tell you one thing I wouldn't do for a bunch of money. Hold a snake that looks like that.)
Regardless, it sounds like the 49ers quarterback received some blowback for the ink, possibly because he recently signed a six-year, $126 million contract. Which, in some people's minds, might point right back to the first seven words of his statement.
Yall perspective is so narrow you don't realize what's really being said? I know what Tim 6:10 says but love is not the only factor!

— Colin Kaepernick (@Kaepernick7) July 7, 2014
According to the King James Bible online, Tim 6:10 says, "For the love of money is the root of all evil: which while some coveted after, they have erred from the faith, and pierced themselves through with many sorrows."
Either way, that's a nice-looking tattoo and a tasty-looking piece of fruit.
Ken Norton Jr. didn't even last a week in San Francisco

One bettor in Vegas is going to make some serious money if the Jaguars win it all

The Jaguars, Vikings and Eagles have combined to win exactly zero Super Bowls ever
The Steelers wilted under the pressure of the postseason

The Bears fan is now officially linked up with the Packers quarterback

The Cardinals have the future in mind at quarterback with the dynamic Louisville quarterback...